Lord Brittan's widow accepts Met Police chief apology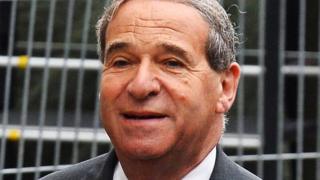 Lord Brittan's family say his widow has accepted "a full apology" from the Met Police commissioner over the handling of an inquiry into the late peer.
He died last year unaware the investigation into a rape claim against him, which he denied, had been dropped.
Sir Bernard Hogan-Howe said he had made "a very precise apology" for not informing Lady Brittan earlier.
The Brittan family said she had asked the commissioner 30 questions, which he had promised to answer in writing.
Scotland Yard has acknowledged the Conservative peer's widow should have been told six months earlier that, had he been alive, he would not have been prosecuted.
Investigating officers had told the alleged victim this in April 2015, a Met report into the handling of the case revealed, but Lord Brittan's legal team were not told at the same time.
The force apologised for this in a letter last year.
BBC home affairs correspondent Danny Shaw pointed out that, while Sir Bernard said he had "confirmed the apology" at Tuesday's meeting, Lord Brittan's family suggested he had gone further by offering Lady Brittan "a full apology".
Operation Midland
Speaking after the meeting, Sir Bernard said in a statement that he and Lady Brittan had had "a private, but constructive conversation".
"I confirmed the apology we made some months ago now, which is an apology for not telling her at an earlier stage about the fact the Lord Brittan, who by that stage had unfortunately died, was not to be prosecuted as there was no chance of a successful prosecution.
"I thought it was important to meet her and it was a very precise apology for the reasons that have previously been given."
Former home secretary Lord Brittan has also been the subject of a separate investigation as part of Operation Midland, Scotland Yard's inquiry into allegations of a paedophile ring at the heart of Westminster.
The Brittan family said in a statement: "At the start of the meeting Sir Bernard offered Lady Brittan a full apology on behalf of the force, which she accepted.
"Lady Brittan went on to ask and table some 30 questions regarding the two police inquiries as they related to Lord Brittan.
"Sir Bernard promised to answer them in writing and Lady Brittan and the family await his response.
"Lady Brittan and the family have nothing further to add at least until they have received Sir Bernard's written response."
Sir Bernard said he would respond within weeks, but added: "We'll try and do it in days."
He told BBC London that Operation Midland had not yet been concluded and historical allegations of this sort took time to investigate.
"People say: 'Why don't you complete these things quicker?'
"Well, one of the difficulties being that new witnesses come forward during the investigation. We've had to explore what they've said."
'Premature'
The Crown Prosecution Service advised the police in August 2013 that there was not enough evidence for a prosecution over the claim that Lord Brittan had raped a 19-year-old female student in 1967 - but the case was nonetheless reopened less than a year later.
Police interviewed Lord Brittan, who was suffering from terminal cancer, in May 2014, but no charges were brought. Lord Brittan died in January 2015.
Scotland Yard said it had delayed telling the peer when he was alive because the CPS had been asked to carry out a final review of the case.
A Met spokesman also said that notifying the complainant in April had been "premature", because the CPS did not confirm it would not pursue the case until June 2015.
Scotland Yard has faced criticism over its handling of the case but a review - carried out by Dorset Police and published earlier this month - found its investigation of the claim was "fully justified".
Lord Brittan, whose career included two years as home secretary in Margaret Thatcher's government, died in January 2015, aged 75.