Valentine's Day proposal on cover of Observer Magazine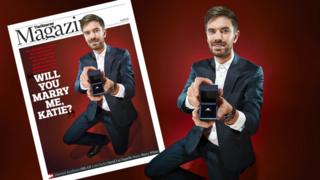 One man found a very public way to pop the question to his girlfriend on Valentine's Day - by appearing on the cover of the Observer Magazine.
James Greig is pictured on one knee holding a ring for Katie Moore, next to the words: "Will you marry me, Katie?"
The article says they are "in a hotel in the countryside... as soon as we hear her answer we will let you know."
But - for those wondering what happened - the Observer Magazine tweeted this update: "Katie said yes!"
The magazine says the pair met in New York through friends and began a relationship, despite Ms Moore living in the US East Coast city and Mr Greig residing 3,500 miles away in London.
Ms Moore, from Shropshire, took part in an interview after being told the magazine was doing a story on long-distance relationships.
The Observer says the proposal is a "first" for a national newspaper.
Their first "proper" date, six weeks after they met, ended with Mr Greig telling Ms Moore he loved her "in a Brooklyn nightclub at 4am".
"On the flight home, to the embarrassment of the BA cabin crew, I cried," Mr Greig, from west Wales, told the magazine.
The couple, who now live together in south London, say they spent many thousands of pounds on plane tickets and had many tearful goodbyes at customs before Ms Moore moved to London in 2014.
The article says Mr Greig recently put their travel miles into a carbon footprint calculator and worked out their long-distance relationship "had effectively used up three whole worlds".
"Do I get let off because it was for love?" he asks.