Queen's grandson Peter Phillips quits street party charity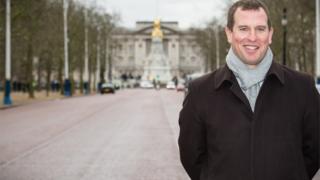 Peter Phillips, one of the Queen's grandsons, is stepping down as a trustee of a charity linked to an event he is organising to mark his grandmother's 90th birthday.
A street party in London's The Mall is planned for 12 June for the charities of which the Queen is patron.
Mr Phillips, who runs an events company, came up with the idea.
He set up a charity to have ultimate control of the event, but has resigned to avoid a conflict of interest.
His company - Sports and Entertainment Ltd (SEL) - will receive an undisclosed fee for organising the Patron's Lunch, BBC royal correspondent Peter Hunt said.
He added that after coming up with the idea, Mr Phillips had approached Buckingham Palace but organisation of the event was not put out to tender.
£150 tickets
Instead, officials said it had been subjected to a rigorous process of due diligence, our correspondent said.
The cost of the street party, expected to be attended by Princes William and Harry, will be covered by sponsorship and official partners, and the sale of tickets priced at £150 each.
Questions have been raised about the cost of the tickets, but organisers said charities could either sell some of their allocation or use them to reward their staff and volunteers.
Mr Phillips has previously stressed it is a not-for-profit event.
Any surplus money from the Patron's Lunch will be allocated to the charity - The Patron's Fund, which will be used to support specific initiatives and projects run by the Queen's charities.
Each one of the 10,000 or so guests will receive an individual food hamper at picnic tables set up along the length of The Mall, where entertainers will perform.
The Queen is patron of more than 600 charities and organisations in the UK and the Commonwealth, including children's charity Barnardo's, Battersea Dogs and Cats Home and Great Ormond Street Hospital.
She celebrates two birthdays each year: her actual birthday on 21 April and her official birthday on a Saturday in June - this year on 11 June.