Power being restored after Storm Imogen hits England and Wales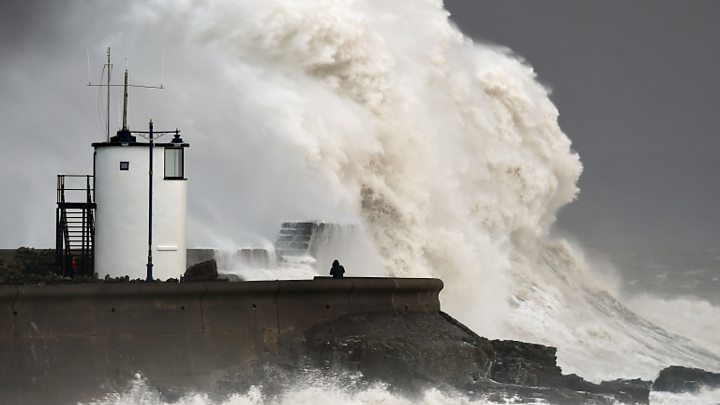 More than a thousand properties remain without power after Storm Imogen brought heavy rain and strong winds.
South-west England and south and mid-Wales bore the brunt, with rail and ferry services disrupted and some schools closed.
Waves of up to 19.1m (63ft) were measured off the Cornish coast, and winds of 70-80mph felt in many areas.
An RSPCA inspector is missing after trying to rescue dozens of sea birds at Porthchapel Beach near Penzance
Although the eye of the storm passed on Monday night, high tides and large waves are expected to continue along the south coast of England on Tuesday, forecasters warned.
'Phenomenal'
Winds of more than 80mph were recorded in many areas, including 81mph on the Isles of Scilly, 84mph in Pembrey Sands, Carmarthenshire, and 96mph at The Needles, off the Isle of Wight.
The Met Office said "phenomenal" sea conditions were also measured at several points offshore. Defined as waves of more than 14m (46ft), it is the highest level on the World Meteorological Scale.
More than 40 Environment Agency flood warnings are in place, meaning flooding is expected and immediate action is required. These include several put in place by Natural Resources Wales.
There are also more than 140 flood alerts, meaning flooding is possible and to be prepared.
In other developments:
At one point, about 19,000 homes were without power on Monday, but the majority have now been reconnected. Most of those still cut off are in Devon and Cornwall
Two young children were badly injured when part of a garden wall was brought down on top of them as they walked to school in Worcestershire
A special bridge to help dormice safely cross the Church Village by-pass near Pontypridd collapsed and hit the windscreen of a car, causing traffic congestion
There was disruption to a number of train lines, including the cancellation of all services in and out of Cornwall after a tree fell across the tracks near Bodmin
A number of schools in Cornwall were closed because of power cuts and storm damage
Several parts of Bridgend town centre were shut because of falling roof tiles
Travel
Check if this is affecting your journey
Environment Agency flood warnings for England and Wales
Live flood warnings from the Environment Agency and the Scottish Environment Protection Agency
View the flood map by tapping on the image below