Walsall woman 'did not tell authorities her husband had joined IS'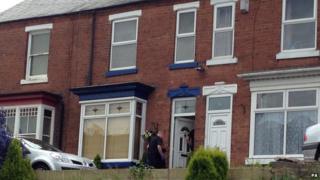 A woman did not tell the authorities her "bullying" husband had travelled to Syria to join the so-called Islamic State, a court was told.
Jurors at the Old Bailey heard Lorna Moore, 33, did not say Sajid Aslam, 34, had left their home in Walsall.
He was allegedly dropped off at Stansted Airport in August 2014 by Ayman Shaukat, ex-treasurer of Walsall Islamic Centre.
Mr Shaukat and Ms Moore both deny terror-related offences.
The court heard Ms Moore, who is originally from Northern Ireland, met her husband while studying in Manchester and subsequently converted to Islam.
'Dog and slave'
She reportedly removed Aslam - the father of her three children - from their Glebe Street home after a breakdown in their marriage.
Ms Moore allowed him back after an Islamic adviser warned her she would go to "hell" if she did not, the court heard.
Jurors were told of a phone call recorded on Ms Moore's phone where she was heard saying Aslam treated her "like a dog and a slave".
Mr Shaukat, of Pargeter Street in Walsall, is accused of helping Mr Aslam and another men travel to Syria.
The court heard he helped one man and his wife sell items of furniture in the knowledge that they did not intend to return to the UK.
Mr Shaukat faces two counts of preparing for terrorist acts and one charge of possession of a terrorist document.
Ms Moore is accused of failing to disclose information about her husband's planned travel to fight for the group.
The trial continues.