Mental Health Week: How do you cope?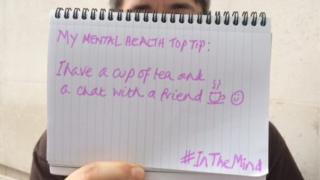 According to mental health charity MIND, every year one in four of us will experience a mental health problem.
As part of the BBC's Mental Health season starting on Monday 15 February, we want to find out how you cope with mental illness.
We would like to hear your top tips on how you deal with mental health issues. What do you do? Who do you speak to?
If you are willing to take part send us an image like the one above. You can include yourself in the picture or not, it's your choice. Share your tip, adding the hashtag #InTheMind.
Email your photo to yourpics@bbc.co.uk or you can upload it here.