Councils could be fined £5,000 a day for unmanned roadworks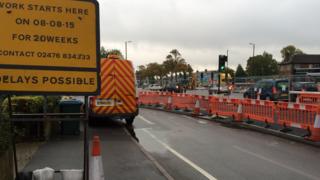 Councils and utility companies could be fined up to £5,000 a day for leaving roadworks unmanned at weekends, the Department for Transport has said.
The proposal is among measures the government is considering to try to reduce congestion on English A-roads.
Those working on major routes would operate seven days a week, or remove road restrictions when work was halted.
The Local Government Association, which represents councils, said roadworks are often left unattended for good reason.
And the National Joint Utilities Group, which represents utility companies and contractors, said any solution must "balance all the conflicting priorities".
'Common sense measures'
Transport Secretary Patrick McLoughlin said some roadworks were essential but "that doesn't mean they should be in place any longer than is absolutely necessary".
"These common sense measures will be a welcome relief to those trying to get from A to B on our local roads," he added.
It is estimated there are about two million roadworks every year, with drivers losing millions of hours stuck in traffic.
Councils and utility companies would be fined for needlessly inconveniencing drivers if they left roadworks in place over weekends when no work was being carried out.
Penalties could also be imposed on those who left temporary traffic lights in place after work had finished.
Daily fines of £5,000 are already in place for roadworks that overrun.
The Department for Transport plans would apply only to A-roads, which are managed by local authorities.
'Watch concrete dry'
The Local Government Association's environment spokesman, Cllr Peter Box, said there was already a strong financial incentive for roadworks to be finished as quickly as possible, because equipment hire and labour was expensive.
"Often works are left unattended for a very good reason, for example to let concrete dry. These fines may mean we end up paying people to watch concrete dry because it is cheaper," he said.
He called for other measures to help councils reduce congestion, such as a "lane rental scheme", which requires contractors to pay for the time they occupy busy roads to make sure works are completed on time.
The National Joint Utilities Group said: "Any solution needs to balance all the conflicting priorities, including reducing disruption, operational impacts, meeting customers' needs and keeping costs to a minimum.
"We will of course be reviewing the government's proposals in detail once they are available and responding to the consultation."
'Pay the price'
Steve Gooding, director of the RAC Foundation, said: "Road users see red when they come across sets of temporary traffic lights that are stopping traffic but there are no workmen in sight or the work has actually finished.
"Ministers can't stop utility companies digging up the roads but they can make firms pay the price if the work is not done swiftly and they do not tidy up after themselves."
Edmund King, president of the AA, said there had been "many false dawns" when it came to cutting the time it takes to complete roadworks.
"Sometimes it is essential work, and the cones are there for safety reasons," he said.
"I think the bigger problem is when one of the utilities has dug down into a trench, they've found a pipe is damaged and then they haven't got the parts [to fix it] so the roadworks are just coned off with no work going on, sometimes for several weeks.
"And I think it's situations like that that the government wants to crack down on."