Britons 'OK' but 13 others die as Caribbean boat capsizes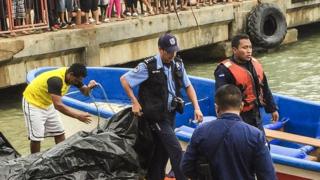 Two newly-married Britons are said to be "OK" after being rescued from a tourist boat which capsized in the Caribbean, killing 13 others.
Edward and Charlotte Beckett had been on board the Reina del Caribe when it got into trouble 43 miles off the coast of Nicaragua, a family member said.
The pair were rescued along with two American tourists, three Nicaraguans and 12 Costa Ricans.
All the dead were said to be Costa Rican nationals, mostly women.
The boat reportedly got into difficulty in rain and high winds travelling between the Corn Islands, a popular tourist destination.
The Nicaraguan navy's commander for the southern Caribbean region, Mario Berrios, said the boat's captain and owner had been detained because the vessel had not been given permission to sail in the bad weather.
A Foreign Office spokesman said: "We are aware of the sinking of a passenger boat between Corn Island and Little Corn Island in the Caribbean Sea on 23 January.
"We are in touch with the local authorities and providing consular assistance to affected British nationals."
A family member confirmed the newly-married Becketts had been on the stricken vessel, adding "they're ok".