Guns seized by police from drive-by plotters, court hears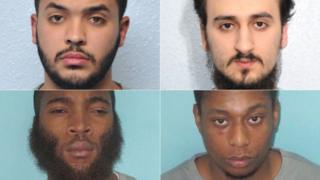 Five guns, including a 19th century revolver, were seized by police from men accused of plotting drive-by shootings in London, a court has heard.
Their plan to kill police, soldiers and civilians was foiled when police raided three of their homes, prosecutors said.
Suhaib Majeed, 21, Nathan Cuffy, 26, Nyall Hamlett, 25, and Tarik Hassane, 22, from west London, deny conspiracy to murder and preparing terrorist acts.
They were allegedly inspired by Islamic State militants.
The homes of Mr Majeed, Mr Hamlett and Mr Cuffy were searched on September 24, 25 and 26 2014, the Old Bailey heard.
Jurors were told Mr Hassane, a medical student, had directed the plot from abroad and returned to Britain to carry on as a "lone wolf" - but was arrested days later.
The men allegedly planned to carry out the attacks from a moped.
Prosecutor Brian Altman QC said a gun, silencer and magazine containing ammunition were thrown out of a window seconds after armed police arrived to raid Mr Majeed's home.
Mr Hamlett's home was raided at 3am the next day. When he was later charged under terrorism law, he allegedly told officers: "This is a joke. I know what this is all about. You are going to look silly."
Two black handguns, two silver revolvers and ammunition were found at Mr Cuffy's home on 26 September, the court heard.
Mr Altman said one of these guns was Richardson American Double Action revolver from the 1880s, which he said was "genuinely old" but still in working order.
Mr Majeed, Mr Hamlett and Mr Cuffy are also charged with various firearms offences.
The trial continues.