Fairy tales: In five words and emojis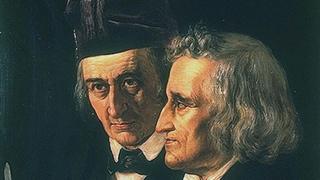 Fairy tales have been found to be thousands of years old, older than literary records.
Academics have studied links between stories from around the world and have found some to have prehistoric roots.
So some creative types amongst you have been getting in touch, to let us know your own fairy tales - in five words or emojis.
But unlike Rapunzel and her hair, you certainly didn't let us down:
You huffed and puffed, and constructed some solid, classic stories via both Twitter and Facebook:
Chris Brunelle kept completely up to date with his effort on Facebook, : "A long time ago, in a galaxy far far away...." We wonder are there are Ewoks in that one?
Eddie Bloggs said: "Politicians always tell the truth". (Probably no Ewoks in that one.)
Does this one rule them all? We certainly hope this is a Tolkien tribute, rather than an unhappily ever after:
And some classics, like Cinderella, were certainly given a modern twist:
But we will leave you with these to ponder on before bedtime. Is this one Beauty and the Beast? Or Little Red Riding Hood?
And don't have nightmares about this Grimm tale:
Compiled by Francesca Neagle