Thousands of trials end over no-show witnesses - watchdog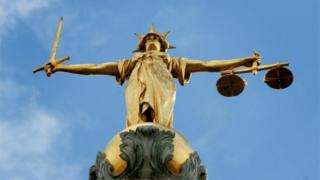 More than 11,000 criminal trials in England and Wales had to be abandoned last year because witnesses pulled out or did not appear at court, a watchdog has said.
The figures have been released by HM Crown Prosecution Service Inspectorate.
Defendants can be acquitted or see their trials rescheduled in such cases.
But the watchdog said too many domestic violence case witnesses were summonsed, which risked "alienating" victims who were willing to give evidence.
Failure to appear could result in a warrant for the witness's arrest.
In 2014-15, for various reasons, more than half of the 195,000 trials listed in magistrates and crown courts did not go ahead as planned, the report said.
Defendants acquitted
The inspectorate found a rising number of prosecutions were "cracked" - which is the term used for a case that closes unexpectedly because a witness is absent or has withdrawn evidence.
This happened in nearly 800 crown court trials and in 10,600 hearings in magistrates' courts.
The report said that 2.1% of trials in the crown court and 6.8% of trials in the magistrates' court were "cracked" in 2014-15, compared with 1.8% and 6.3% respectively the previous year.
---
Case study - Teenage girl beaten by her stepfather
A 16-year-old girl accused her stepfather of beating her in an attack witnessed by her mother.
The assault was relatively minor but the girl said it had not been the first time and it was noted that her mother had also been attacked by him in the past.
The girl later made a statement saying the original statement she made was true but she no longer wanted to appear in court. As a result, the prosecution ended the case.
CPS inspectors felt, however, it would have been appropriate to apply for a witness summons, given the previous history of violence against both the girl and her mother, and the young girl's vulnerable position.
---
The inspectorate said a "powerful tool" to persuade someone to testify was a summons which makes attendance a legal requirement.
But it said summonses were being used inappropriately for more than one in 10 witnesses in domestic abuse cases.
The report also found the Crown Prosecution Service (CPS) only requested a background check on the witness in a third of cases and prosecutors were not considering ways to make witnesses more willing to attend court, such as using special screens or video link.
Prosecutors should also consider whether the case could continue without the witness by using statements from others, CCTV evidence, 999 recordings and medical evidence, it added.
Domestic abuse training
Chief inspector of the HMCPSI Kevin McGinty said: "The CPS rightly wants to reduce the number of times that trials have to be rescheduled or defendants walking free, but there's little evidence that use of the summons is making a difference."
An HMCPSI spokesman added: "A witness summons is the last resort for those who disengage from a prosecution and should only be considered when all other avenues have been exhausted."
A Crown Prosecution Service spokesman said that along with police, it was conducting a joint review of the provision of support to victims and witnesses.
"This review, which aims to improve levels of service, will be an opportunity to explore the reasons for the drop in witness attendance," he added.
"We will be updating our training on domestic abuse over 2016-17 and will consider including training on witness summonses within this."