Bid to speed up prison smoking ban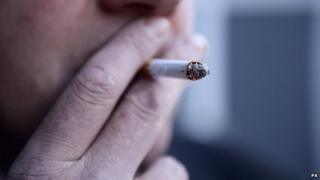 The Prison Officers Association (POA) is to launch a judicial review against the Prison Service to speed up an outright ban on smoking in prisons.
It says an increase in the use of psychoactive drugs is causing growing health problems for prison staff.
The government says a pilot ban is being brought in for prisons in Wales and four prisons in England shortly.
But the POA says it wants a clear timetable for a ban to start across all prisons in the two countries.
The initial smoke-free policy will be implemented in Welsh prisons this month and at the selected English prisons from March.
Smoking is currently allowed only in cells and exercise yards, but the government eventually intends to ban smoking completely in all 136 prisons in England and Wales.
It follows a series of legal challenges by prison officers and inmates who have complained about the effects of passive smoking.
POA general secretary Steve Gillan told the Victoria Derbyshire programme the health effects of secondary smoking were well known and that 80% of prisoners smoked.
"The ban could be rolled out in two years, three years or 20 years. Air quality controls and medical reports show that prison officers and prisoners could suffer and will suffer ill-health effects," he said.
'Crushing chest pain'
The POA says there have been several instances of officers being taken to hospital suffering from the effects of breathing in the fumes of drugs like Spice and Black Mamba - a type of synthetic cannabis which is smoked and is a Class B drug.
Last week it was told about an incident where seven prison officers reported suffering ill effects from fumes after a large quantity was found in a cell.
This programme has seen anonymous testimonials from prison officers who have suffered from the effects of breathing in legal highs.
One reported a "sweet smell and smoky atmosphere" on the landing, then his head feeling like it "might pop", his heart racing and generally feeling cold and sweaty, while he was unable to remember his journey home from work.
Another reported a "crushing chest pain", feeling dizzy and then a feeling like a severe hangover for several days.
Mr Gillan said: "These new psychoactive substances are out of control. They are damaging to prisoners' health, damaging to prison officers' health and something urgently needs to be done about this."
Safe changes
A Prison Service spokeswoman said: "We have long been committed to a smoke-free prison estate. Implementation will be phased over a long period in order to make these changes safely. Prisoners will have access to e-cigarettes and other support to stop smoking.
"Our careful approach will ensure prison officers and inmates are no longer exposed to second-hand smoke, while not compromising the safety and security of our prisons."
The government added that it took a zero tolerance approach to drugs in prison, with a range of robust measures already in place to detect them, including the use of sniffer dogs, searches of cells and mandatory drugs tests.
The Victoria Derbyshire programme is broadcast on weekdays between 09:15 and 11:00 on BBC Two and the BBC News channel. Watch the report in full here.