Shami Chakrabarti to quit role at rights group Liberty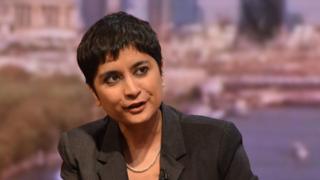 Civil liberties campaigner Shami Chakrabarti is to quit her role at campaign group Liberty.
Ms Chakrabarti described her 12 years as Liberty's director as an "enormous privilege", and said she was leaving the group "stronger than ever".
Under her leadership, Liberty, which was founded in 1934, has campaigned on issues such as stop-and-search powers and compulsory ID cards.
The 46-year-old will remain in her role until a successor is appointed.
Liberty said recruitment for her replacement would begin in the coming weeks.
---
Shami Chakrabarti profile
Born in London and studied law at the London School of Economics
Worked as a lawyer at the Home Office between 1996 and 2001
Joined Liberty as in-house counsel in 2001, becoming its director two years later
As Liberty's director, she often appeared on political programmes alongside other public figures to debate topics such as the aborted plans to impose ID cards, surveillance and detention limits
Made a CBE in 2007 and was one of six people to have worked with Lord Justice Leveson on his inquiry into press ethics
Was among those carrying the Olympic flag into the Olympic stadium for the London 2012 games
Released her first book, On Liberty, in October 2014
Once described by radio presenter and Sun columnist Jon Gaunt as "Britain's most dangerous woman"
---
Ms Chakrabarti said: "With members, colleagues, lawyers, journalists and politicians from across the spectrum, we have held three prime ministers and six home secretaries to account.
"Liberty's first president, EM Forster, rightly called defending civil liberties 'the fight that is never done'.
"I leave Liberty secure in the knowledge that we're stronger and more ready for that fight than ever."
Liberty would now be looking for a director who was "ready to defend [human rights] well into the future", she added.
Ms Chakrabarti has also written a column in the Guardian in which she says she has "always sympathised with those charged with security rather than liberty".
"But this trade-off simply no longer works," she added. "What is 'national security' in the 21st century if not the personal and (increasingly) cyber-security of millions of people?"
The group's chairman, Frances Butler, said Liberty had "greatly extended its expertise, influence and membership" under Ms Chakrabarti's leadership.
She joined Liberty as in-house Counsel the day before the 9/11 attacks on the World Trade Center in New York and became director in September 2003.
During her time at its helm Ms Chakrabarti has been a constant defender of the Human Rights Act.
Ms Chakrabarti once wrote that she became a lawyer after reading the novel To Kill A Mockingbird, saying the novel had had a "profound effect on me".
Novel inspiration
Scottish First Minister Nicola Sturgeon said on Twitter that she was "sad to see" Ms Chakrabarti stand down, describing her as having "been a superb champion of human rights".
Labour MP for Holborn and St Pancras, Keir Starmer, who is the former director of public prosecutions, congratulated Ms Chakrabarti and said she had transformed Liberty.
Liberal Democrat leader Tim Farron said she would be "much missed" by Liberty and described her as "a strong, strident and liberal voice in many public debates".
Conservative MP and civil liberties campaigner David Davis told the Guardian Ms Chakrabarti had been a "remarkable director of Liberty".
"She has been a doughty fighter in defence of that freedom and very successful.
"She was very much instrumental in the rejection of ID cards and the control order regimes - perhaps one of the most illiberal policies of any government. She has a formidable track record and will be greatly missed."