More than one in 20 military deaths 'in training', says MoD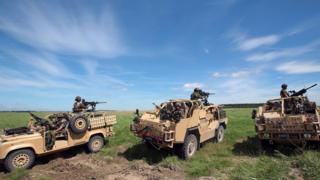 A total of 131 military personnel died on training or exercise in the last 15 years, the Ministry of Defence says.
That amounts to more than one in 20 of all armed forces deaths in that period.
The majority, 98, died as a result of injuries rather than disease, including during activities like rock climbing. Road and air accidents, and live fire also claimed several dozen lives.
The MoD said training "necessarily involves taking some risks", but those were "as low as reasonably practical".
The figures - which cover the period from 1 January 2000 to 31 October 2015 - show that:
98 deaths were the result of injuries and 24 were because of disease-related conditions. The cause of nine deaths was either not yet known or a definitive cause had not been found following inquests.
13 victims were classed as "untrained" because they were in the early stages of training, including five individuals who were under the age of 18.
There were 88 deaths in the Army compared with 21 in the RAF, 14 in the Navy and eight in the Royal Marines.
22 deaths occurred during adventure training, including four while parachuting, five while rock climbing, mountaineering or caving, and five during water activities such as kayaking or sailing.
There were 109 deaths during all other forms of training, including 28 in aircraft accidents, 17 in land transport accidents, and 11 from live fire incidents.
An MoD spokeswoman said: "It will always be necessary to train and test our military personnel to the highest possible levels so that they can help keep us safe.
"This necessarily involves individuals pushing themselves and taking some risks, but all training activity is conducted to ensure these are as low as reasonably practical."
The House of Commons Defence Select Committee is currently carrying out an inquiry into the duty of care towards service personnel during military training.
Last year, a coroner concluded that three reservists who died on an SAS selection march on one of 2013's hottest days died as a result of neglect.
The Army said it accepted it did not carefully manage the risks involved in the exercise.
The BBC's defence correspondent Jonathan Beale said being in the military was inherently more dangerous than most jobs, as these figures show.
Nevertheless, he said, there are concerns around some of the deaths - for example, those from overheating and in road accidents - and the Ministry of Defence is looking at whether more can be done to protect personnel.