Student nurses and midwives protest over grants cut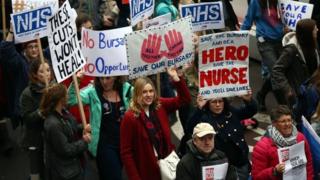 Student nurses and midwives have marched in protest at the government's decision to scrap their bursaries in England and replace them with loans.
Demonstrations against the move, announced in the chancellor's Spending Review in November, took place in London, Manchester and Newcastle.
The government says it will allow more nurses and midwives to be trained and give them more financial support.
The Royal College of Nursing said fear of debt would put people off training.
'Amazing job'
Currently student nurses and midwives receive an annual bursary from the NHS while they study - which they do not have to pay back. They also do not have to pay tuition fees.
Is another fight with health staff brewing?
However, the government argues that because the NHS can spend only a finite amount of money on bursaries each year, it limits the number of places available for students.
"We need more home-grown nurses in the NHS because they do an amazing job caring for patients, but currently two-thirds of people who apply to become a nurse aren't accepted for training," a spokesman for the Department of Health told BBC News.
"Our plans mean up to 10,000 more training places by the end of this parliament, with student nurses getting around 25% more financial support whilst they study."
Bursaries can amount to between £1,000 and more than £4,000 a year depending on where the student lives, and are means-tested.
Changing bursaries to loans would bring studying nursing and midwifery in line with other university courses and save £800m a year, ministers have said.
But the Royal College of Nursing said scrapping bursaries would be "a big loss to our society", as talented would-be nurses and midwives choose different career paths.
The college also argues that nursing is not like other courses, as students spend a lot of their time on placements in hospitals doing clinical work, and do not have the time to earn money doing different jobs in the way other students can.
'Severing critical links'
"Removing their bursaries will have a serious impact on them financially and put the future supply of nurses at serious risk," Janet Davies, the chief executive of the college said.
"The decision also risks severing the critical link between the NHS and nursing students and in doing so the government is effectively absolving itself of any responsibility to ensure that the right numbers of nurses are in the right place and with the right skills."
Chairwoman of the RCN Student Council, Sylvia Duval, who took part in the London march, said: "Bursaries are an essential financial support and without them, many of us here today wouldn't have been able to fulfil our dream of becoming a nurse.
"Taking away these grants and replacing them with hefty loans will only pile on more personal financial pressure to an already overstretched part of the health care workforce."
Carmel Lloyd, who is head of education at the Royal College of Midwifery (RCM), described the government plans as "appalling" and said they would "deter many committed and talented people from considering a career in midwifery".
"The RCM is extremely disappointed that the government did not seek advice or consult with us prior to making this decision. This is a change that has huge implications for both our student midwife members and an already understaffed maternity service," she added.
Marching under the "bursary or bust" campaign, the student nurses and midwives also proposed that all NHS students join junior doctors for a half-day walk-out on 10 February.
Shadow health secretary Heidi Alexander told the rally in London: "We must keep nursing bursaries for the next generation so that nurses can qualify, help all of us and not be lost to the profession."
George Osborne wants to implement the change from 1 August 2017, and consultation on the policy is set to begin later in the year.
More than 150,000 people have signed an online petition calling on the government to retain the NHS bursary, and Parliament is expected to debate the issue on Monday, 11 January.
Junior doctors are planning a 24-hour walk-out on Tuesday, a 48-hour strike on 26 January and another walk-out on 10 February over contract changes planned by the government.