Ex-Co-op director claims unfair sacking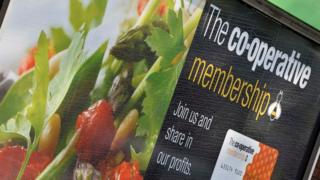 An ex-director from the Co-operative Group claims she was subjected to "a deliberate campaign to comprehensively disparage" her reputation, an employment tribunal has heard.
Kath Harmeston claims she was unfairly sacked in 2014 after reporting what she believed was criminal conduct and is seeking more than £5m in damages.
The Co-op says her behaviour was not in keeping with her role.
The tribunal in Manchester is expected to last two weeks.
Ms Harmeston, who now holds a senior position at the Ministry of Defence, claims she was unfairly sacked for blowing the whistle on what she believed to be the unlawful, corrupt or irregular use of members' money, and the commission of criminal offences.
'Attitude change'
In her 74-page witness statement, Ms Harmeston said she believed she had "at all times acted with the utmost integrity" and had "always acted in the best interests of the respondent [the Co-op Group]".
She added: "The respondent's attitude towards me changed in a negative way following the making of those protected disclosures and the respondent initiated a disciplinary process against me, claiming that the trigger for the commencement of that disciplinary process was the receipt by the respondent of an anonymous whistle-blowing complaint which I contend contained a number of false statements."
She described her dismissal as humiliating and said it "could lead one to believe that I had committed some very serious act or acts".
Ms Harmeston alleged the Co-op had tried to destroy her reputation and career.
She claimed the firm was "haemorrhaging" money on the hire of management consultants paid "way in excess" of the going rate.
She also claimed the firm had paid up to £8m more than it should have done in 2013 alone for consultancy services due to "endemic" non-compliance with proper procurement procedures.
Judgement criticised
In legal documents submitted to the tribunal, the Co-op alleged that Ms Harmeston's claims of "whistle blowing" for the public good was a "cynical after thought" and a "smokescreen".
Senior Co-op bosses, including group chief executive Richard Pennycook and chief operating officer Pippa Wicks, are expected to give evidence.
The tribunal also heard that Ms Harmeston had left her previous job as head of procurement at the Royal Mail while a consultancy firm she had used - Silver Lining Partners (SLP) - had been under investigation.
This was for allegations by a Royal Mail whistle blower that it had been "fleecing" the postal giant. Ms Harmeston described the timing of her departure as a "total coincidence".
Questioned by Andrew Burns QC, representing the Co-op, the claimant agreed she had not told her new employers about the matter and that she had later employed SLP to work at the Co-op.
The company alleges this was done even though she did not have the authority to do so. It also says Ms Harmeston was "poor at her job and exhibited appalling judgement in recruiting SLP".
Bicycle savings
Ms Harmeston was headhunted by the Co-op Group from the Royal Mail where she had managed a budget of £2bn between 2009 and 2014 and helped make savings of £650m.
This was partly achieved by procuring delivery bikes for postmen from China at £45 each, rather than paying £360 per bike in the UK.
Her cost-cutting skills were much needed at the Co-op after the problems with its banking division had resulted in a £2.5bn loss in 2013.
Speaking earlier, Co-op Group chairman Allan Leighton said the company "dismissed her because she acted in a manner which was not in keeping with the importance and seniority of her role, nor the values and principles of the Co-op".
The tribunal continues.