What is the best way to spend a lottery jackpot? Your views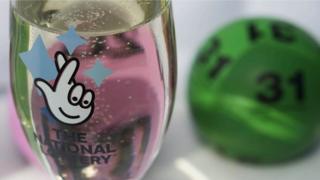 The National Lottery jackpot now stands at an estimated £57.8m as no-one picked the winning numbers in Wednesday's draw.
This Saturday the prize must be won. If no-one is able to match six numbers then the next tier of winners will share the prize.
You have been sharing your plans for how you would spend the money.
---
Big plans for big winnings
Brenda Irwin from Northern Ireland told us she would use any winnings to set up a coffee shop "with a difference" in her town.
But until she has the money in her hand she's keeping her ideas a secret.
Adam Crolla from Horwich, Greater Manchester, also had a food-themed idea. He wrote on Twitter of his plans to bring a bit of classic American culture to Britain should he have the winning ticket.
He's not the only Mancunian to dream of winning big. Of the thousands of tweets that were sent in the UK before Wednesday's draw, the topic sparked the most discussion in London, Manchester and Newcastle.
Long-term player Natasha Gray got in touch to say that she hoped her luck would change now it was 2016.
"Last year I won £67 - that's probably the most I've won on a single ticket.
"I would be truly grateful to win any substantial amount just to be able to afford to get on to the property ladder, that would be amazing!
"If I won the really big jackpot, I have grand plans of setting up an occupational therapy centre for families with children who are on the autistic spectrum.
"My inspiration being my eldest son Adam, who has Autism Spectrum Disorder, Sensory Processing Disorder and Attention Deficit Hyperactivity Disorder.
"If you see any magic lotto-winning fairy dust please send some my way."
Christine from Scunthorpe tweeted to say she would "set everyone I love up for life" before setting herself up in warmer climes.
Others like Mike Street also prioritised those closest to them:
The first thing Victoria May would do is book a round-the-world trip.
Lesley had charity on her mind when deciding what to do with the cash. She suggests donating £45m while using the rest to take care of her grandchildren and great-grandchildren.
Ash Bailey had lots of ideas - he tweeted: "A load of cash for my local hospital, look after family, buy a Guinness or two :-)"
While @Xrayser on Twitter had an alternative suggestion:
That might come in useful, as many people got in touch with BBC News to complain that they were not able to buy their ticket for Wednesday's draw as the National Lottery website struggled to cope with demand.
Camelot said it had sold about 200 tickets per second in the hour before ticket sales closed at 19:30.
"It's probably good as it saved me £2," wrote Jason Rose, in an email to the BBC. "But after hyping the draw for several days, it's frustrating they did not have the capacity to meet customer demand."
A couple from Leicester told the Victoria Derbyshire programme that technical troubles were the reason why they missed out on a £35m lottery jackpot in December.
They were not the only ones with tales of woe.
In July 2013, Steve Buckler from Hove in East Sussex thought he had hit the jackpot with his numbers 3, 13, 15, 29, 34 *07 and *10. But on closer examination he realised he was just a few digits away. The winning numbers were 4, 12, 15, 28, 33, *01 and *10.
Another winner, Mike, got in touch to tell the BBC of his syndicate's ill luck. "I was in a work syndicate in the mid 90s and I'd taken ages choosing my numbers through various means," he said.
"We'd all had the same sets of numbers for months from the outset of the lottery back in the 90s.
"Due to no winnings, everyone decided to change their numbers except me. The very next week, no word of a lie, I got five numbers."