Islamic State video 'shows killing of five men it says spied for UK'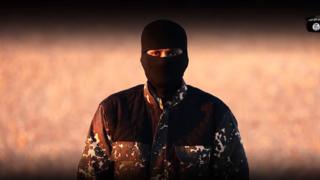 Islamic State militants have released a video, featuring a man and young boy speaking with British accents, purportedly showing the killing of five men who it says were spying for the UK.
In the 10-minute film, the man threatens attacks in the UK and says this is a message for David Cameron.
A boy later appears in the video, which has not been independently verified, talking about killing "unbelievers".
The UK Foreign Office said it was examining the video's content.
'Extraordinary duress'
In the new video, the masked jihadi militant, who is holding a gun, mocks Mr Cameron for daring to "challenge the might" of the extremist group before he makes a threat to British people to "invade your land".
The five men, wearing jumpsuits, are seen purportedly being shot in the back of the head in a desert location, after making what is claimed to be their confessions.
But BBC World Service Middle East editor Alan Johnston says they appear to be "speaking under the most extraordinary duress" and "may be entirely innocent".
One of the men says he had been asked to provide information about the location of IS militants, including two Britons, apparently to help target them with air strikes.
Some of the five men say that they are from Raqqa in Syria while another says he is from Benghazi, Libya, but none that they are from the UK.
After the apparent killings, the young boy, who seems to be aged around six or seven years old, is seen pointing into the distance, wearing military-style clothing.
IS has repeatedly used children in its propaganda videos.
---
Analysis
By Gordon Corera, BBC security correspondent
It is less than two months since British IS propagandist Mohammed Emwazi, the man known as Jihadi John, was killed by a drone strike in Syria.
This latest video by IS seems to show another man trying to take up his mantle.
The identity of the masked man is so far unknown but authorities will be trying to identify him and confirm if he is British.
Emwazi was killed after intelligence - most likely from informers - located him in a vehicle in Raqqa, Syria.
The fact that this latest video shows the killing of alleged spies indicates the extent to which IS is trying to track down those who might be providing information.
Children also regularly feature in IS propaganda videos and the brief appearance of a child - apparently with a British accent - at the end of the video will also most likely be of interest to the authorities.
---
Alan Johnston says the release of the video comes in the aftermath of a "major military setback for IS" after it recently lost control of much of the Iraqi city of Ramadi.
He adds: "It's possible this is aimed at distracting attention from that defeat - an effort to shock watching Westerners and shift their focus."
Following the death of Mohammed Emwazi, the Briton who became known as Jihadi John, this new video shows "something of a replacement" for him, says our correspondent.
"That masked militant becomes the new masked face of the Islamic State, at least for British viewers."
Jonathan Russell, head of policy at the Quilliam Foundation think tank, said it was "shocking" to hear British voices and to see a child in the video, but that both were being used "to reinforce the IS brand".
"These symbols are really reinforcing its terror - this is terrorism in its truest sense," he told the BBC News Channel.
"And what we've got to be very careful to do is not simply reinforce this terror but to debunk it and to say, look, it's projecting falsehoods, it's showing definitely not the reality on the ground in Iraq and Syria at the moment and it doesn't offer anything to potential recruits here in the West."