Councils warn against buying illegal puppies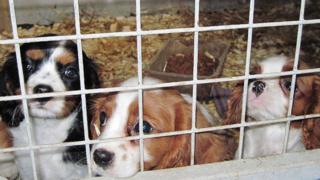 People who buy puppies this Christmas should avoid getting them from illegal dealers, the Local Government Association (LGA) has warned.
Puppies brought into the country illegally have often been taken from mothers too young and have endured "appalling conditions", the LGA said.
Some have become seriously ill, and even died, within hours of being bought and taken home.
The LGA advised people who want a new pet to buy from a reputable breeder.
'Cruel trade'
The LGA, which represents more than 370 councils in England and Wales, said puppies brought into the country illegally were often bred on farms and then transported hundreds of miles across Europe in terrible conditions, with some not surviving the journey.
Nick Worth, the LGA's regulatory services spokesman, said: "We know that some families will be keen to welcome a new puppy to the family at Christmas time, but I urge people to find a pet from a reputable breeder or a rehoming centre.
"Unwittingly buying illegal puppies can not only end in upset for families when their new pet becomes ill or worse, but the money funds this cruel trade that sees puppies removed from their mothers and forced to endure long journeys in horrific conditions at just weeks old."
---
Advice for people buying puppies:
Look for clues that the puppy was born and reared at the place it is sold, such as food bowls and bedding. If the puppy appears scared in its surroundings, it may not have been brought up there
Ask to see certificates of vaccinations and microchipping records
Check for any signs of illness
Avoid anywhere advertising more than three breeds
Spend plenty of time with the puppy - buyers should not feel rushed
Make sure you see the puppies with their mother, and that the mother is healthy and happy
Ask your vet for reputable breeders, or rehome a dog
---
Trading standards officers in Northamptonshire said there had been recent cases of puppies being illegally brought to the UK from Slovakia and Moldova, while officers in Coventry discovered an American Bulldog who had been imported too young.
In Warwickshire a dog owner had to pay over £1,000 in quarantine fees after a vet alerted Trading Standards to the fact a Rottweiler puppy, who was suffering from dehydration, was too young to have been imported.
By law, pet owners who want to keep their dog are required to pay quarantine fees, which means families are often left with large bills when they buy dogs brought into the country illegally, the LGA said.
Vaccinations are only effective on puppies that are at least 15 weeks old, which means those brought into the country younger than this need to be placed in quarantine to make sure diseases such as rabies are not brought into the country.