Jeremy Corbyn support campaign Momentum faces investigation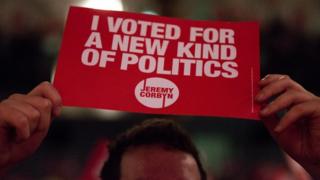 The campaigning group set up by Labour leader Jeremy Corbyn's supporters - Momentum - faces the prospect of an investigation by the information commissioner.
The data protection regulator said it had received a complaint about the group and would be making enquiries.
Momentum said the allegation was unfounded and was not supported by evidence.
The group has collected the data of tens of thousands of activists.
The commissioner's office has not revealed the the specifics of the complaint or who made it.
Labour figures hostile to Mr Corbyn fear that Momentum will try to undermine the Party leader's internal critics, and have privately questioned its use of personal data.
Information gathered during the leadership campaign has been kept by Momentum, which says on its website it is collecting data to help build a lasting network of support.
---
What is Momentum?
Momentum is a grassroots organisation set up in the wake of Jeremy Corbyn's leadership victory.
The campaign group currently has about 60,000 supporters, charges no membership fee and organises mostly through social media. It has around 50 local groups across the UK.
Its self declared aim is "to create a mass movement for real progressive change" and aims to help "democratise" the Party.
Anyone can join Momentum - which has prompted fears it could be infiltrated by the Socialist Workers Party (SWP) and other far-left groups who are opposed to the Labour Party.
Is Momentum Corbyn's secret weapon?
---
Momentum has previously said supporters gave their "explicit consent" to have the information retained.
Data about people's political beliefs are classed as particularly sensitive.
A spokeswoman for the Information Commissioner's Office told BBC Radio 4's Today said: "We have received a complaint about Momentum and will be making enquiries."
A Momentum spokesman said it had been accused of using data supplied by the Labour Party to lobby MPs.
He said: "The allegation is unfounded. No evidence has been provided to support this allegation.
"Our understanding is the only inquiries the ICO have or will make at this time is to ask the complainant to provide evidence, which they have failed to do."