Duke and Duchess of Cambridge attend City fundraiser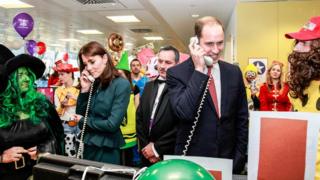 The Duke and Duchess of Cambridge have joined City brokers in fancy dress on the trading floor at a charity event.
The royal couple were among the guests invited to attend the global financial firm ICAP's 23rd annual charity day.
Traders in London taught them how to close deals at the Central European interest rates desk.
ICAP gives away one day's revenue and commissions every year, which enables them to fund philanthropic projects and research around the world.
The event raises millions each year for charities that the duke and duchess are patrons of such as SkillForce, Place2Be and Sports Aid.
Since ICAP's fundraising day was started in 1993, nearly £120m has been raised for charity.
The duchess danced in celebration after the couple closed deals worth millions of euros over the phone.
The duke later joked about the "dodgy" outfits worn by some of the staff, which ranged from gangsters and molls to belly dancers and comic book characters such as Batman and Iron Man.
He was guided through the trade by broker Dan Lebeau, who was wearing three-inch heels.
Mr Lebeau said: "He was saying to me, basically 'where did you get them from?'
"It was very difficult to find size 10 high heels in a normal shop."
Also at the event were the prime minister's wife, Samantha Cameron, actor Jeremy Irons and broadcaster Jeremy Paxman.