Bail revoked for preacher Anjem Choudary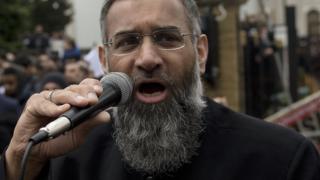 Radical preacher Anjem Choudary has had his bail revoked after he was seen meeting a person he was "precluded from contacting" by his bail terms.
Mr Choudary, 48, who is awaiting trial for allegedly encouraging support for so-called Islamic State, met the individual on 21 November.
He was remanded until 11 December at Westminster Magistrates' Court.
At an earlier hearing, Mr Choudary indicated he would plead not guilty to charges of encouraging support for IS.
Mr Choudary is from Ilford, east London.