'More suicides' in government disability test areas
By Michael Buchanan
Social Affairs Correspondent, BBC News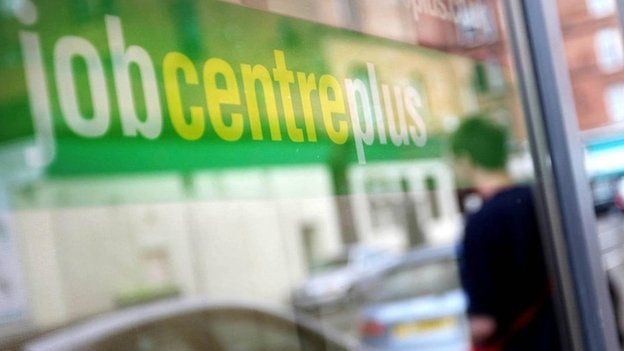 Nearly 600 suicides in England may be associated with the government's "fit-for-work" tests, research suggests.
Oxford and Liverpool researchers looked at 2010-13 data and also found the Work Capability Assessments could be linked to a rise in mental health problems.
The study found the areas with most WCAs showed the sharpest increases.
The government said the report was "wholly misleading" and the authors had cautioned that no conclusions could be drawn about cause and effect.
However, the researchers said that while a causal link could not be established, they had tried to adjust for other factors which may have influenced the results.
They also noted that the observed increases in mental ill health followed - rather than preceded - the reassessment process.
It found that each additional 10,000 people subjected to a WCA was associated with an additional six suicides, 2,700 cases of reported mental health problems, and the prescribing of an additional 7,020 anti-depressants.
Overall, that amounted to 590 extra suicides, 279,000 additional cases of mental health problems and an additional 725,000 anti-depressants across England as a whole.
The higher the number of assessments the greater the increase in these adverse mental health outcomes, the research found.
The researchers said: "Our study provides evidence that the policy in England of re-assessing the eligibility of benefit recipients using the WCA may have unintended but serious consequences for population mental health.
"There is a danger that these adverse effects outweigh any benefits that may or may not arise from moving people off disability benefits."
Disability rights campaigners have argued that the process has led to unnecessary deaths.
Almost 20,000 people have signed a petition calling on the government to act on its commitment to reform the assessments.
Tom Holland, policy and campaigns manager of mental health charity Mind, said: "This worrying study shines a light on the damaging impact the WCAs can have on people's mental health."
Labour said the study raised "serious questions" about how the government's approach to getting people into work was impacting on their mental health.
Shadow mental health minister Luciana Berger said: "It is unacceptable to have a system that causes vulnerable people anxiety, putting their health at further risk.
"When only a small proportion of people with mental health problems are moving into employment, the government must accept that their approach is deeply flawed."
A Department for Work and Pensions spokesman said: "This report is wholly misleading, and the authors themselves caution that no conclusions can be drawn about cause and effect.
"In addition, it is concerning that they provide no evidence that the people with mental health problems highlighted in the report even underwent a Work Capability Assessment."
Work Capability Assessments were introduced by Labour in 2008 for claimants of Employment and Support Allowance (ESA).
The coalition government extended the system to existing recipients of incapacity benefit, the predecessor of ESA, in 2010, as well as periodically re-assessing ESA recipients.
Prof Thom Baguley, associate dean for research at Nottingham Trent University, said more evidence was needed, but added: "The study provides evidence that the specific application of this policy (the way reassessment of cases was conducted) increased the suicide rate and outcomes associated with adverse mental health in those people affected.
"The evidence goes beyond merely establishing a correlation but falls short of establishing a causal link."
Have you been affected by issues covered in this story? Let us know about your experiences. Email haveyoursay@bbc.co.uk with your stories.
Please include a contact number if you are willing to speak to a BBC journalist. You can also contact us in the following ways: