Operation Elveden: Ex-prison officer guilty over Mirror leaks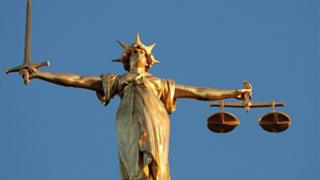 A former prison officer has been found guilty of leaking stories about inmates to the Daily Mirror over six years.
Grant Pizzey, 50, worked at HMP Belmarsh and made nearly £20,000 from tip offs, the Old Bailey heard.
He passed on details about train robber Ronnie Biggs, hate preacher Abu Hamza al-Masri and killers Steve Wright and Levi Bellfield, the jury was told.
Pizzey was standing trial with his wife Desra Reilly, 48, who was found guilty of aiding and abetting him.
Pizzey was charged with misconduct in a public office and the jury found him guilty after deliberating for eight hours and 40 minutes.
'47 payments'
The couple, from Eltham, south-east London, were arrested in 2012 as part of Operation Elveden, which is the Met Police's investigation into journalists' dealings with public officials.
The court heard how Pizzey had passed on information about life in the south-east London prison, which resulted in stories about Easter eggs, a laptop for a terror suspect and price hikes at the prison canteen.
Prosecutors said he used his wife as the go-between to pass information to a journalist at the Daily Mirror between 1 December 2005 and 31 January 2012.
Almost £20,000 was paid in 47 payments via Reilly's bank account from the newspaper, the court heard.
The couple have been remanded in custody for sentencing on 20 November.
Speaking after the guilty verdict Detective Superintendent Larry Smith, who is leading on Operation Elveden, said: "In this case the evidence presented to the court showed that Pizzey was aware that in his role as a prisoner officer, selling confidential information obtained in the course of his duties was wrong.
"Using Reilly, he attempted to mitigate this by appointing her as the go-between. Their actions damaged the public trust and merit criminal sanction."