'My housemates saved my life' Your cohabiting stories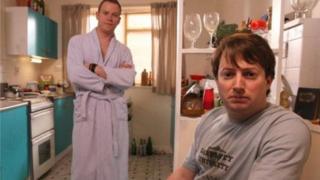 After 12 years, the comedy Peep Show is coming to an end. College friends Mark and Jeremy, played by David Mitchell and Robert Webb, have shared a flat in Croydon, Surrey.
But the pair have decided to call time on their living arrangements as they approach middle age.
In reality, numbers of people reaching 40 and beyond and still living in shared accommodation, is on the rise.
So what is life like as an older flat-sharer? You have been sharing your stories.
A lifesaver
Sharing accommodation for some is a great way to have a social life without having to leave the house.
Paul Harrison in Bristol writes:
"I am 37 and share with two friends, not for any other reason than I have never met the right woman and settled down. Plus, have you seen house prices in Bristol? Even rent is through the roof.
However, we do not have 'hands off my milk' notes over the house. In fact we share everything; if we are low on milk, someone buys it, the washing up is (mostly) always done, as is all housework. We have dinner together, one of us cooks every night - I do a roast every Sunday. And we holiday together.
I wouldn't change my living situation for the world at the moment. In fact, one of the housemates and I have started saving for a house - we're just going to take the other housemate with us.
When I had a pulmonary embolism in April this year, if I had lived alone I would not have made it to the hospital. My housemates got me there and effectively saved my life. It's a shame there is this alleged stigma with house sharing because I really wouldn't want to, at this point in my life, live with anyone else other than my brilliant, amazing housemates."
"I got custody of the wine fridge"
Marion in Ireland writes:
"I shared a flat with my best friend for about 10 years after we left university. We were such great friends that my family assumed we were in a relationship.
We finally "split up" when my friend got offered a job in the south of France and it was like a very amicable divorce. We went through our CD and DVD collections trying to figure out who bought what. I got custody of the wine fridge!
My family's assumptions about our relationship were further entrenched when about six months later I moved to a new job in Paris."
What you can afford
Scott in Bournemouth says:
"Being a single divorced male who is almost 40 and working in low paid jobs, it's really hard to find somewhere to live without sharing especially if you want to enjoy life like everyone else.
I really detest living in a shared house. In my last place damp was a major problem and some of the people living there were stealing my food to the point where I had to chain the freezer up and padlock my cupboard.
The house was rundown but you have to live where you can afford."
A way to help pay the mortgage
Mike in New Jersey says:
"I bought a house six years ago. I wanted to keep my house but paying the mortgage was becoming difficult. I love the house - it's in a wooded quiet neighbourhood a few miles from Philadelphia.
I found a roommate in his forties who wanted to live in a private house instead of an apartment complex. It has been about 18 months now and is working out very well for both of us.
I think anyone considering this type of scenario should try it".
Compiled by Susanna Cooper