First Syrian refugees flight due to land in UK next week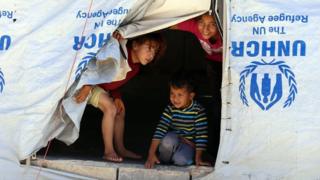 The first charter flight of Syrian refugees will arrive in the UK next week, the Home Office's most senior civil servant has said.
Permanent Secretary Mark Sedwill said the UK was "on track" to meet David Cameron's target of receiving 1,000 Syrian refugees by Christmas.
The move is part of the prime minister's wider plan to take in 20,000 refugees from Syria by 2020.
But there has been pressure on Mr Cameron to accept even more refugees.
Labour leader Jeremy Corbyn has said the government's negotiating power on European Union reform could be boosted if the UK accepted more refugees, while Church of England bishops pressed Mr Cameron to accept at least 50,000 refugees.
'Great uncertainties'
Mr Sedwill told the Home Affairs Select Committee: "The prime minister has set us a target for the new scheme of 1,000 by Christmas and plans are in place for that.
"There are a series of charter flights over the next few weeks in order to meet that objective."
But he added that there were "great uncertainties" when dealing with "very vulnerable people from the camps".
More than 700,000 migrants - fleeing wars and conflicts in the Middle East and north Africa - have arrived in Europe this year, according to UN estimates.
Mr Cameron announced earlier this year that the UK would not take part in an EU scheme to redistribute migrants, but would work with the UN High Commissioner for Refugees to identify vulnerable individuals in camps in countries like Turkey, Jordan and Lebanon.
New arrivals to the UK will be given a five-year visa, after which they will be able to apply for leave to remain.