British Sharm el-Sheikh flight in 'missile' incident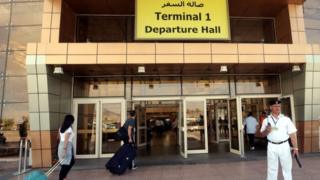 A UK passenger plane carrying 189 people had to take evasive action over Sharm el-Sheikh in August to reportedly avoid a missile.
A UK government inquiry concluded the incident was linked to routine military activity and was not a targeted attack.
But Egyptian officials say reports of a missile passing the Thomson Airways jet are inaccurate and it was not at risk.
Meanwhile, EasyJet says Britons still in Egypt after last week's plane crash could face a four-day wait to fly home.
A Russian plane - an Airbus A321 operated by Russian airline Metrojet - was flying from Sharm el-Sheikh to St Petersburg when it came down in Sinai on 31 October, killing all 224 people on board. Most of the victims were Russian.
All UK-bound planes from Sharm el-Sheikh were halted on Wednesday amid fears the passenger plane had been brought down by a bomb.
Flights restarted on Friday with increased security measures and continued on Saturday.
About 3,300 tourists have returned so far to the UK, but thousands of people remain stranded in the resort.
'Artillery practice'
The government has confirmed an investigation into the reported missile incident was carried out by the Department for Transport.
According to the Daily Mail, the plane was forced to manoeuvre away from a rocket as it flew into Sharm el-Sheikh, but Egypt's foreign ministry said the allegations were "completely inaccurate".
A spokesman said the incident had involved ground-to-ground firing at a military base a few miles from Sharm-el Sheikh airport, and that no plane had been in danger.
Aviation security experts told BBC security correspondent Frank Gardner it had involved artillery practice by the Egyptian army.
Could IS have bombed Flight 9268?
How has airport security changed?
Charlie Hebdo in crash cartoon row
Thomson has confirmed "an event" was reported by the crew of flight TOM 476 on 23 August.
A spokesman said: "The DfT conducted a full investigation in conjunction with other UK government experts.
"After reviewing the details of the case, the investigation concluded that there was no cause for concern and it was safe to continue our flying programme to Sharm-el Sheikh."
Speaking on the BBC's Today programme, aviation expert Alastair Rosenschein described the incident as "quite extraordinary".
He said: "I'm not sure that I buy the fact that it was a military exercise and that a missile passed to within a 1,000ft of an aircraft that was presumably on the correct flight path on the approach to land at Sharm el-Sheikh.
"It most certainly does not happen. I suspect that this is not the full story."
Meanwhile, the Department for Transport said nine flights had left Sharm el-Sheikh for the UK on Saturday, carrying 1,945 passengers.
These were:
Thomas Cook flight MT1627 to Gatwick
Thomson flight TOM717 to Bristol
Thomson flight TOM895 to Manchester
Monarch flight ZB8009 to Manchester
Easyjet flight EZY9767 to Luton
Easyjet flight EZY9320 to Luton
British Airways flight BA2561 to Gatwick
Monarch flight ZB685 to Manchester
Thomas Cook flight MT270P/2625 to Manchester
Only eight of 29 scheduled flights were able to depart on Friday, carrying just over 1,400 passengers.
The remaining 21 flights were cancelled by the Egyptian authorities because of the build up of passengers and luggage.
Britons are being allowed to travel home with hand baggage only; hold luggage is to be flown back separately.
A UK government spokesman said: "It is important that people stay at their resort until they have confirmation from their airline or tour operator that they are on a flight back to the UK and that they follow their airline's advice on the appropriate arrival time at the airport.
"Any British nationals requiring assistance, over and above that being provided by their airline and tour operators, can call the Foreign and Commonwealth Office on 020 7008 0000."
The UK's ambassador to Egypt, John Casson, told the BBC: "We have got good co-operation now which will allow us to get people home as soon as possible. Let us remember this has always been about making sure that when people go home they go home safely."
Are you due to return from Sharm el-Sheikh to the UK today? If you have any information to share with the BBC, you can email haveyoursay@bbc.co.uk.
Please include a contact number if you are willing to speak to a BBC journalist. You can also contact us in the following ways: