Crown courts in England and Wales 'chaotic and archaic'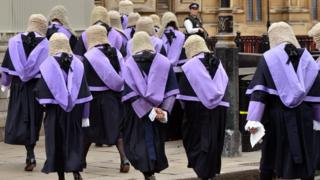 Victims and witnesses are often left marginalised in a court system that is "archaic" and "chaotic", a report by the Criminal Justice Alliance has said.
The Crown Court system in England and Wales is "structured mayhem" with many delays, the study by the coalition of 90 justice campaign groups said.
The report draws on the personal experiences of nearly 150 lawyers, witnesses, victims and defendants.
The Ministry of Justice said reforms were needed to improve procedures.
The study found that many victims and witnesses involved in Crown Court trials felt frustrated that they had "little voice within the courtroom".
Wigs and gowns worn by legal professionals created a sense of "other-worldliness", while the language and rules of the courtroom were "elaborate, ritualised and - in many respects - archaic", it said.
Lawyers "seeking to outdo each other with displays of eloquence, quick-wittedness and legal knowledge" often further alienated victims, witnesses and defendants, it suggested.
'Overflowing paperwork'
The report also said frequent delays, adjournments and scheduling problems caused "frustration, anxiety and inconvenience" to all involved in Crown Court proceedings.
The average time from commission of an offence to conclusion of a trial has risen from 304 to 360 days in the last 18 months.
One defendant in a fraud trial, Jenny, told researchers she had been shocked by the apparent disorganisation of the courtroom.
"There's just bundles of paper, box files overflowing under desks. And it makes you think: well if there's all this unorganised stuff everywhere, how organised are people really? That's important paperwork - why is it just being thrown around?" she said.
Others described feeling that the system was more about "trickery" and "getting off" than about finding the truth, and that legal professionals saw proceedings as a "big game" to be won.
A number of witnesses interviewed said they felt unsupported, intimidated and as though they were on trial while giving evidence.
One witness named Julia said: "It's just very frightening, very daunting when you walk in and you see all the chairs and the benches and everything set out and then you see all these people with their wigs on and the gowns. It's just very, very frightening."
Another, Ron, said: "Lawyers should remember: it's not a game. They're playing with people's emotions and people's lives."
The report made a number of recommendations to improve the system, including:
A review of the use of wigs, gowns and other "other-worldy" court formalities by the Lord Chief Justice and court services
Greater emphasis on lawyers and judges to use "plain English" and explain technical terms to defendants, witnesses and victims
The appointment of an officer in the court administrative office responsible for monitoring delays and communicating with court users
Using the criminal dock only when necessary for safety reasons, and instead seating defendants with their lawyers as the "norm"
Ben Summerskill, director of the Criminal Justice Alliance, said research suggested that while two thirds of the British public had confidence in the fairness of the criminal justice system, under half had confidence in its effectiveness.
"Millions of people still don't have confidence in something so central to a healthy state," he said.
He said the report highlighted "the human distress and frustration caused by a courts system that too often appears to operate with all the efficiency of the 19th Century in the first half of the 21st."
Urgent reform
Responding to the report, the Ministry of Justice stressed the urgent need for reform by making sure prosecutions are brought more efficiently and procedures stripped down.
In a report last year, senior judge Lord Justice Leveson said the criminal justice system in England and Wales needs wide-ranging change to make it more efficient and cheaper to run.
He has recommended greater use of video and conferencing technology in court rooms, timetables for evidence and lawyers' speeches and the use of pictures gathered by police on cameras attached to their uniforms.
After becoming Justice Secretary after the general election in May, Michael Gove agreed that the justice system in England and Wales was "creaking and outdated".
He said Lord Leveson's innovations must be "implemented with all speed".
Mr Gove said he was "confident" he could secure the £700m funding that judges say is needed to overhaul the system.