Prospects for young people have worsened, says report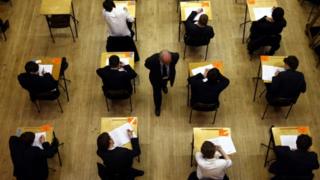 Prospects for young people in the UK have worsened over the past five years, according to the Equality and Human Rights Commission.
Its report found those under the age of 34 were hit by the steepest fall in income and employment.
This age group also had less access to decent housing and better paid jobs, and faced deepening poverty, it found.
The government said it was committed to building a country where "hard-working people can succeed".
According to the report, those aged 16 to 24 were more likely than all other adult age groups to be living in poverty.
'Shocking gap'
EHRC commissioner Laura Carstensen said: "It's great to see the barriers being lowered over the last five years for some people, but during the same period they've been raised higher for younger people in particular.
"Theirs are the shoulders on which the country will rely to provide for a rapidly ageing population, yet they have the worst economic prospects for several generations."
The report - Is Britain Fairer? - also found:
While most people are more tolerant of sexual and racial diversity, religious differences continue to create problems
Chinese and Indian pupils continue to perform better than all other ethnicities at school, while children from gypsy or traveller families do the worst
White boys from poor families were found to be suffering a combination of disadvantages
Most people are being paid less per hour in real terms than five years ago
Ms Carstensen said the review showed British people wanted a society where everyone had an equal opportunity to make the best of their lives, but "our achievements still lag behind our aspirations in some areas".
Kate Green MP, shadow minister for women and equalities, said the report demonstrated the creation of a "shocking gap" between young people and the rest of the population.
She added: "It is a huge indictment of the Tory government - their policies are effectively writing off the next generation.
"This is utterly unjust to young people and puts the future success of our county in jeopardy."
Poor white boys get 'a worse start in life'
TUC general secretary Frances O'Grady said the report should be a "wake-up call" to ministers about the "plight of young people, who are struggling to cope with poverty pay, deteriorating job prospects and the increased cost of housing".
She added: "Hiking up university and college fees and excluding young people from the new higher minimum wage rate is not the way to build a fair and prosperous Britain.
"It is the blueprint for a lost generation. Without better employment and training opportunities many young people will continue to be shut of the recovery."
Maria Miller MP, who chairs Parliament's newly formed Women and Equalities Committee, said: "If the government wants this country to be a fairer place to live, they need the right plans in place to tackle inequalities highlighted in this important report from the EHRC."
A government spokesman said: "We have made good progress in many areas, by getting two million more people in work, raising wages, and having more children in good or outstanding schools than ever before.
"But we know there is still some way to go to fix the issues highlighted in this report."