Cenotaph Remembrance service to be made shorter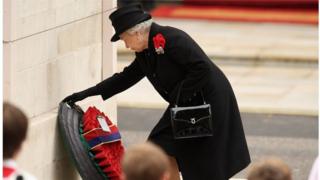 The Remembrance Sunday service at the Cenotaph in London is to be made shorter, but plans for party leaders to lay wreaths together have been dropped.
It had been suggested the PM would lay a wreath alone, while opposition party leaders would not, to limit the time the Queen and veterans had to stand.
But "after discussions" the format for political leaders would remain as last year, the government said.
However, some royals will lay wreaths together at next month's service.
A Department for Culture, Media and Sport (DCMS) spokesman said the service would still be "slightly shorter" despite the format for politicians remaining the same.
The annual remembrance event, which will take place on 8 November and be led by the Queen, honours those killed in the two World Wars and later conflicts.
Plans to change the service were aimed at shortening the ceremony out of respect for the ageing veterans who take part in the parade and to limit the amount of standing time for the Queen, who is approaching her 90th birthday.
The Duke of Edinburgh, who is 94, will also attend.
Earlier on Friday, Buckingham Palace had said: "A number of veterans wait some time for the parade to move off, and then have a lengthy march to Horseguards Parade.
"This year, in order to allow the parade to get under way earlier, some members of the Royal Family and political figures will lay their wreaths simultaneously."
After DCMS later said the format for opposition party leaders would be unchanged, a palace spokesman said the "Royal Household is entirely content with the arrangements".
BBC royal correspondent Peter Hunt said the idea that opposition leaders would lay wreaths was initially thought to have raised eyebrows among their parties at Westminster.
The Times reported that Labour leader Jeremy Corbyn, Liberal Democrat leader Tim Farron, Angus Robertson of the SNP and Nigel Dodds, the DUP's Westminster leader, had been told by email that they would no longer each lay a wreath in turn but perform their duty collectively, leaving only the prime minister to lay one on his own.
The newspaper claimed Downing Street was "facing pressure to return the format to the original or agree that all five party leaders should have equal billing at the ceremony".
However, the prime minister's spokesman said he was not aware of any opposition parties raising concerns about their leaders' proposed involvement.