Restorative justice: 'How I got an apology from my abuser'
By Adam Eley
BBC Victoria Derbyshire programme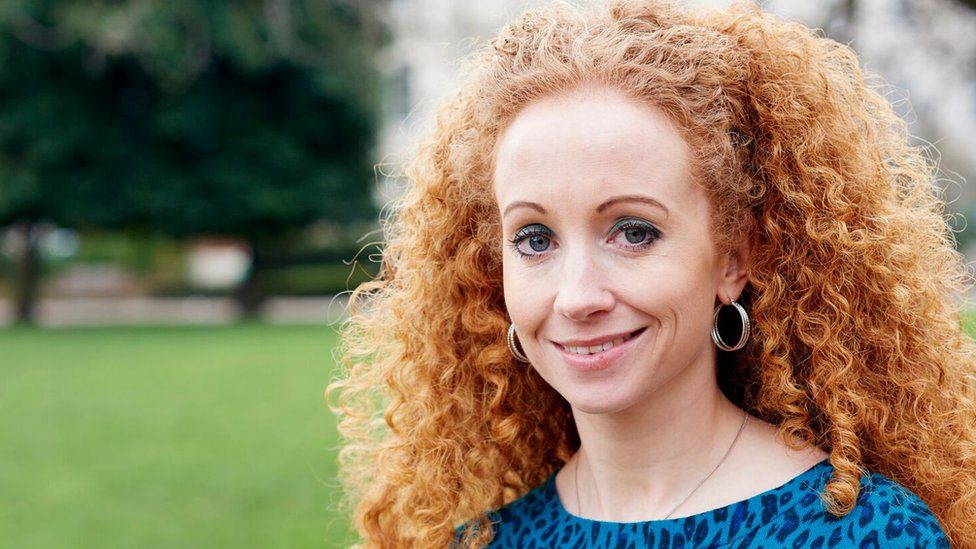 Laura Coel was sexually abused by her former stepfather for long periods of her childhood.
She explains how the restorative justice system enabled her to meet him years later and gain an apology.
"You tend to make up in your head what your abuser is thinking, and you make judgements about things which only they can tell you for sure," Laura says.
She remembers the unanswered questions that led her, last year, to meet her former stepfather for the first time since he was sentenced in 2006.
Her abuser - who we have decided not to name - groomed and sexually assaulted her between the ages of four and 14, and served four years in prison after pleading guilty to 12 counts of indecent assault and gross indecency with a child.
Laura, from Morpeth, Northumberland, had wanted to hear him apologise for his actions, but also make him face up to how his crimes had affected her.
"Life went on, but I'd never had a chance to speak to him about what had happened," she tells the Victoria Derbyshire programme. "In 2014, I finally decided I was ready."
Laura, 30, chose to take part in the restorative justice system - a process that enables victims to meet or communicate with their offender to explain the real impact of the crime.
Through her victim liaison officer, she was referred to the National Probation Service in Northumbria who - over a period of 11 months - arranged the meeting with her former stepfather, by that time out of prison.
"Every detail was worked out in advance," Laura explains. "I was told we could take breaks, and that there would be an exit just for me if I needed to leave. I even visited the meeting location beforehand so I could decide where everyone was going to sit."
Laura - who had suffered from mental health problems since the abuse - was also prepared psychologically.
"The probation service was constantly in touch with my community mental health nurse, and they made sure that I had appointments with her the days before and after the meeting."
There was thorough preparation to ensure her safety. Had she not used the system, Laura says, she may have chosen the unsafe option of arranging a meeting with her former stepfather on her own.
Laura - who has waived her right to anonymity - is able to recall the three-hour meeting in detail.
"When [my former stepfather] came in, we didn't make eye contact at first," she explains. "He seemed weak that day - he looked a lot older, and he seemed like half the man he had been before."
Laura proceeded to ask questions she had sent her stepfather in advance.
What is restorative justice?
Restorative justice enables victims to meet or communicate with offenders to explain the real impact of the crime.
For communication to take place, the offender must have admitted the crime, and both the victim and offender must be willing to participate.
Meetings take place in a controlled environment, with a facilitator to ensure the process is safe.
Restorative justice is used most commonly in relation to burglary, robbery, grievous bodily harm and assault. It is well established in the youth justice system.
Restorative justice reduces the frequency of reoffending by 14%, according to a 2010 government report.
The government committed to providing £29m of funding for restorative justice projects in England and Wales for 2013-16.
"I asked him why he abused me. He said he picked me because I was the youngest sibling and therefore the easiest to manipulate. He said he didn't choose [to form a relationship with] my mum so he could get to us children, it just happened.
"I also asked him if he understood that my anorexia was caused by what he'd done to me. He told me he'd deliberately blanked it out so he didn't have to admit to himself that it was his fault."
It is in such instances that advocates of restorative justice believe it can form a key part of an offender's rehabilitation. But the system also has benefits for the victim, allowing Laura to offer her former stepfather forgiveness.
"It was really important to me to let him know that while he'd affected the first 30 years of my life, I wasn't going to let him ruin the next 30," she explains.
"He got very emotional and had to leave the room - he said he couldn't understand why I'd want to forgive him.
"I told him it was because I didn't want to carry around what he'd done to me any more. I'd moved on, and forgiving him was for me, not for him."
It is this form of positive outcome that has led the Restorative Justice Council to call for all victims of crime to be given the opportunity to meet their offenders, whatever the offence.
Jon Collins, its chief executive, says that in certain parts of the country there is a "blanket ban" preventing survivors of sexual crime from using restorative justice.
"There are a number of victims who have tried to access restorative justice but have been told that they can't participate - with no assessment, no process of determining suitability.
"As police spend more time investigating and prosecuting sexual abuse crimes... this needs to be followed up and matched by wider availability of restorative justice for the victims."
Since the meeting, Laura says "a weight has been lifted" off her shoulders.
"I wanted an apology, and I got one. An apology is one word, but it's a massive thing," she says.
"I'm not as angry any more - that's lifted. And hearing him say that it was all his fault was massive. I didn't believe that until I heard it from him, and no-one else would have been able to convince me.
"Without restorative justice I'd have struggled to move on with my life. I also had the chance to say goodbye to him, which was what I wanted."
Related Internet Links
The BBC is not responsible for the content of external sites.