Plastic carrier bags: How will the 5p charge affect you?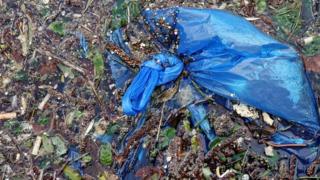 On Monday 5 October, in England, you won't be able to take your shopping home in a plastic bag unless you hand over 5p.
The charge is being introduced by the Department for Environment, Food and Rural Affairs with the aim of reducing the impact of hard to degrade plastic bags on wildlife and the environment. Some items will be exempt from the ruling.
The charge is already in place in Scotland, Northern Ireland and Wales.
How will you carry your shopping home? We'd like to hear about the steps you will take to avoid paying 5p for a single-use plastic carrier bag.
Do you have a favourite re-usable plastic carrier bag or do you use a basket or a wheelie?
Will the 5p charge for a single-use carrier bag change the way you shop?
Are you in a country that has already introduced charges for single-use plastic carrier bags? What advice would you pass on to English shoppers?
We'd like to hear from you. You can email haveyoursay@bbc.co.uk with your stories.
Please include a contact number if you are willing to speak to a BBC journalist. You can also contact us in the following ways: