British WW2 veterans given France's Légion d'honneur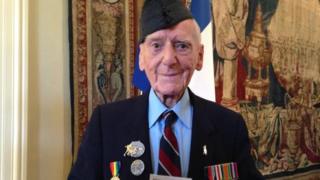 Fifteen British veterans of World War Two have been awarded France's highest honour for the role they played in the country's liberation from the Nazis.
The men were given the Légion d'honneur by French Veterans Minister Jean-Marc Todeschini at a ceremony at the French ambassador's residence in London.
He said his country would never forget their bravery.
One of the veterans, Thomas Hassel, told the BBC he felt "tremendous pride" on behalf of all those who fought.
Many of the men took part in the D-Day landings in June 1944, a crucial turning point in the war.
The ceremony is the latest in a series that have taken place since the 70th anniversary of D-Day, when French President François Hollande pledged to honour all those British veterans who had served in his country during the war.
'Freedom and peace'
Giving out the medals, Mr Todeschini said he was presenting them with "a great deal of respect and gratitude".
"To these men, France owes its liberation. We will never forget their bravery over 70 years ago, which led to freedom and peace in France and across Europe."
Mr Hassel said: "I shall treat this honour with tremendous pride.
"Not only for myself, but for those people who can't apply, those people who didn't come back. I was one of the lucky ones."
He added: "I've often thought over the years [about] the French people, the mothers with children, that were caught up in this battle that was nothing to do with them, really.
"They were getting shelled by the British, they were getting shelled by the Germans, losing their homes and families. It's something that's always been at the back of my mind."
Defence minister and deputy leader of the House of Lords Earl Howe attended the ceremony.
Students from London's two French secondary schools, the Lycée Français Charles de Gaulle and the Lycée International de Londres Winston Churchill, also read out the veterans' military achievements.
The Legion d'honneur is France's top accolade for an elite group of people who distinguish themselves through civilian or military valour.
It was initiated by the then First Consul of the French Republic, Napoleon Bonaparte, in 1802.