Children's fancy dress costume safety to be tested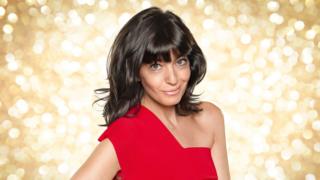 An investigation into the safety of children's fancy dress costumes is to be carried out by Trading Standards.
Hundreds of retailers face spot checks to test flammability of costumes to see if they meet safety standards.
An assessment is also taking place to see whether European safety standards are tough enough.
Last year the daughter of Strictly Come Dancing presenter Claudia Winkleman suffered serious burns when her Halloween outfit caught fire.
The presenter said at the time she hoped speaking about the experience could prevent similar accidents.
Spot checks
Figures show that 94 people in England were admitted to hospital as a result of their clothing either igniting or melting last year, of which 21 were children under 18.
The investigation follows a call from MPs for tougher fire safety regulations for children's fancy dress.
It will look at retailers of all sizes, including those online, and will check whether the costumes are meeting current safety standards required for toys.
Evidence will also be fed to a separate assessment being carried out by the British Standards Institute which will look at whether Halloween costumes should be classed as clothing rather than toys.
Business Secretary Sajid Javid, who granted funding for the spot checks, said: "My immediate concern as a father and a minister is that children wearing these fancy dress costumes are safe.
"It is unacceptable for any costumes to be sold that do not comply with safety standards...
"Parents should feel confident that any fancy dress they buy meets required standards."
Trading Standards officials will report their findings later in the autumn.
Reacting to the news of the investigation, Claudia Winkleman said: "We're extremely happy the government is taking action on this and we're so grateful to the supermarkets who are selling safer costumes. "
Witch costume
Winkleman's eight-year-old daughter was in a witch's costume when it brushed against a candle and caught fire last year.
The TV presenter told the BBC at the time that the tights of the outfit had "melted into her skin" and they had struggled to put the fire out.
She added: "It was like those horrific birthday candles that you blow out and then they come back."
Leon Livermore, chief executive at the Chartered Trading Standards Institute (CTSI), said he welcomed the government funding for the Trading Standards investigation.
"CTSI takes issues of product safety very seriously, and hopes the evidence gathered as part of this investigation will help to establish whether the current flammability standards are still fit for purpose," he said.
Andrew Opie, from the British Retail Consortium, said it was committed to ensuring that all testing was "robust" and that safety standards were "sufficiently rigorous".
He said retailers had gone "a step further" in testing children's costumes according to "more stringent nightwear flammability standards" and had worked with British Standards to have the existing toy flammability standard (EN 71-2) reviewed.
They were also developing new codes of practice for testing on flammability safety and safety labelling, he said.