Military constraints embolden UK enemies - defence chief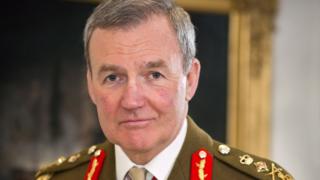 Britain's enemies could be emboldened by the reluctance of parliament to authorise UK military action overseas, the head of the armed forces has said.
Gen Sir Nicholas Houghton told the Chatham House international affairs think tank public concern about such intervention may have a similar impact.
He said "ever greater constraints" on using force would affect the ability to deter potential aggressors.
The speech was his personal view on the Strategic Defence and Security Review.
The review announced by Defence Secretary Michael Fallon in June is examining the threats to the UK and the capabilities needed to counter them.
Gen Houghton, the Chief of the Defence Staff, said the UK needed to cast aside the shadows of its military action in Iraq and Afghanistan and consider the "current global context".
He said: "There is no longer a simple distinction between war and peace. We are in a state of permanent engagement in a global competition."
He said "all the instruments of national power need constantly to be in play" and called on the UK to "re-imagine the utility of the armed forces beyond the simple construct of fighting wars or preparing for the next one".
The military faced advances in the technological competence of potential enemies in both their arms capabilities and propaganda abilities, Gen Houghton said.
'National interest'
He added it was important to maintain an "advantage" in these areas and spend more on technical innovation - saying using robotics, microprocessing, novel materials and unmanned flight were all possible ways of addressing future challenges, as well as manpower costs.
Gen Houghton said: "But the more worrying constraints on the use of force lay in the areas of societal support, parliamentary consent and ever greater legal challenge.
"Such constraints are particularly significant when the desire to commit to the use of force is in support of operations which some may consider discretionary to the national interest."
Gen Houghton said: "If a nation's assumed willingness to commit to the use of force is only in the face of national survival, then we encourage rather than deter revisionist states and their own ambitions."
In 2013 the government was defeated in a vote on UK military action in Syria.
The government is expected to draw up proposals within the next few weeks for missile attacks in Syria against the Islamic State (IS) group. It is thought the plans would have Parliamentary support although Labour's new leader Jeremy Corbyn is opposed to such action.