Pier and boat store on top 10 at-risk buildings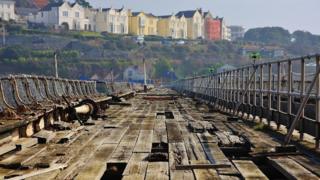 Britain's only pier built around an island and a boat store of "worldwide importance" are among this year's top 10 most endangered buildings.
The Victorian Society has published its annual list of the most at-risk Victorian and Edwardian buildings in England and Wales.
Actor and Victorian Society vice-president Griff Rhys Jones said the buildings needed the public's help.
A palatial house in Conwy, dubbed the "discount Downton", also made the list.
Jones has recorded a video asking people to help publicise the list, which is nominated by members of the public, because "they are buildings that need help and we need you to help them".
Director of the Victorian Society Christopher Costelloe said: "All the buildings in this year's top 10 are listed buildings, meaning that the government has recognised their national importance.
"These buildings illustrate Britain's history in tangible form. All of them deserve better than their current situations."
On the 2015 endangered list
Birnbeck Pier, Weston-super-Mare, Somerset - (Grade II*, 1862) Britain's only pier leading to an island, it was damaged by a mine during World War Two while it was being used by the Admiralty as HMS Birnbeck, a secret facility for weapons testing. The pier closed in 1994 and successive owners' restoration plans have come to nothing. Storms earlier this year have left one walkway on the verge of collapse.
Sheerness boat store, Kent - (Grade I, 1856-60) This disused boat store is the world's earliest surviving example of a multi-storey iron-frame and panel structure. The all-metal frame, made rigid by portal bracing, was pioneering. It was subsequently adopted by early skyscrapers in Chicago, and universally used for modern steel-framed buildings.
Kinmel Hall, near Abergele, Conwy - (Grade I, 1870-1874) Alternatively nicknamed the "Welsh Versailles" or "discount Downton", the house was paid for by Hugh Robert Hughes, heir of a huge copper mining fortune. Country Life magazine noted in 1969 that "Kinmel is an amazingly palatial house for a commoner to build himself, even a Victorian commoner and a very rich one." Queen Victoria is believed to have stayed at Kinmel in 1870. There are plans to turn it into a hotel but these have stalled.
Madeira Terrace, Brighton - (Grade II, 1890- 1897) A seafront walk said to be the longest continuous iron structure in the world, but now closed to the public and set to be replaced. The 2,837ft (865m) long arcade and walkway, decorated with cast iron balustrades and delicate arches, includes a single-storey cafe and waiting room with a three-stage lift tower to Marine Parade.
Central Plaza Hotel, Carlisle - (Grade II, 1880) The former Great Central Hotel is constructed from contrasting sandstones with stone panels decorated with the city arms, the date and scenes from Aesop's Fables. The scaffolding-shrouded hotel closed in 2004 and it is now without an owner.
Ladywell Baths, Lewisham, south London - (Grade II, 1884) When the gothic baths opened, newspapers reported that cleanliness was next to godliness as they were so close to the parish church. Innovatively, to avoid paying the water company, the owners sunk a 270ft (82m) well, yielding 8,000 gallons of water an hour. The baths have lain empty for many years and have been vandalised. Lewisham Council has struggled to find anyone to take the building on.
Hunslet and Victoria Mills, Leeds - (Hunslet Mill Grade II*, c1842; Victoria Mill Grade II, c1838) A huge multi-storey complex of red brick mill buildings, Hunslet is thought to be the last, and individually the largest, of Leeds' great flax-spinning mills. The buildings have been unused for decades and the developers who own them say rejuvenation remains unviable.
St Luke's Church, Wolverhampton - (Grade II*, 1860-61) A major landmark in a deprived area of Wolverhampton, St Luke's has an exceptionally well-preserved Victorian interior. It closed in 2013, largely as a result of repair bills for dry rot and the poor condition of the brickwork.
Tolly Cobbold Brewery, Ipswich - (Grade II, 1896) The site has been abandoned since 2002 when Tolly Cobbold merged with Ridley's brewery. The building is now in a poor condition due to copper thefts and water damage, with much of the exterior covered in green algae. Outline planning permission was granted in 2013 to turn it into a mixture of flats, businesses and leisure facilities but no progress has been made so far.
Overstone Hall, Northamptonshire - (Grade II, 1860) The house has the earliest known example of cavity wall insulation. It also had a central heating system, gas lighting and a butler's lift. However, Lord Overstone is said to have disliked the design and never lived there. The building remains unloved and about half is a burnt-out shell after a fire in 2001. The New Testament Church of God put the hall up for sale in 2010 for £1m but it remains unsold.