Prisons 'must adjust to older inmates' says ombudsman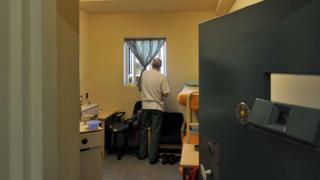 Prisons will have to adjust to a rapidly ageing prison population, the Prisons and Probation ombudsman says in his annual report.
The number of prisoners whose deaths were caused by natural causes increased by 15% to 155 in the year 2014-15.
Ombudsman Nigel Newcomen says prisons will have to take on "care home and even hospice" roles in future.
The Ministry of Justice said it was looking at adapting prison regimes to suit older prisoners.
In his report, Mr Newcomen attributes some of the increase in the ageing population to longer sentences and more "late life" prosecutions for historical sex offences.
He said: "It is remarkable that the fastest growing segment of the prison population is prisoners over 60 and the second fastest is prisoners over 50."
One "stark" example of the consequences of the rise in the prison population age profile, cited in the report, points to the death of a 94-year-old prisoner who had been removed from his care home to serve a prison sentence.
The prisoner died after falling out of bed in his cell.
The report states that "end of life" care in prisons is improving but is variable and in some cases "unacceptable".
In total there were 250 deaths in 2014-15 - a 5% increase on the year before.
Ongoing issue
There were also 76 self inflicted deaths, which the ombudsman says is a "welcome decrease" of 16% on 2013-14, but still substantively higher than 2012-13 when there were 55.
There were also four homicides, the same number as previous years.
A spokesman for the MoJ said: "We are currently looking at adapting prison regimes to better meet the needs of older prisoners and are working closely with our partners in the NHS and local government to develop integrated health and care services for elderly and infirm prisoners.
"We work hard to ensure suitable facilities are provided for elderly prisoners, and a number of prisons make specific provisions through dedicated wings and units."
In 2014 the Prison Reform Trust said that "in the last few years, prison has been reduced to a punitive holding operation for people growing older and sicker behind bars".
Its report for that year said prisons were struggling to cope with the increasing number of elderly, sick and disabled people being jailed.
And in 2013 a Justice Select Committee report said a national strategy was needed to provide for the needs of older prisoners.