Polish blood campaign: Poles donating to NHS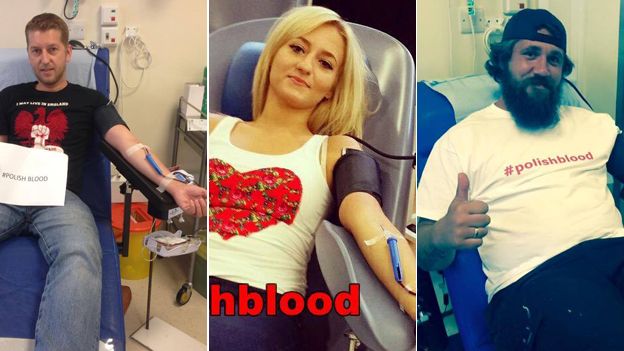 Polish people living in the UK have been donating blood to highlight their importance to British life.
The drive began as a counter-campaign to a call by the Polish Express newspaper for Poles in the UK to strike over discrimination.
George Byczynski, of the British Poles Initiative, said Poles wanted to be seen contributing to British society.
The NHS said it was "grateful that members of the Polish community have pledged to donate blood".
There are nearly 700,000 Polish people in the UK.
The Polish Express, a free newspaper for Poles living in the UK, had called for the strike on Thursday and a protest outside Parliament over the treatment of Polish people in the UK.
However, the strike, which was not backed by any unions, does not appear to have materialised.
The Westminster protest was attended by about 15 people, according to the Federation of Poles, an umbrella organisation which did not support the strike.
While many have donated blood on Thursday, others have been donating in recent weeks.
Mr Byczynski, who has lived in the UK for six years, said the campaign had gone "very well".
"Not everyone who wanted to donate blood could register for Thursday, so people will pick another day," he said.
"It may take weeks or months for everyone who wants to give blood to donate.
"We heard about the call for a strike and thought it was pointless, so someone came up with this idea instead.
"The idea is to save lives and help people. If it will help foster good relations between British and Polish people then that is also a good thing."
He also said Polish people were "part of this society, who respect the law and respect the culture".
"We do understand some of the things being said about discrimination, but the idea of a strike was too much," he said.
Kasia Paterek, 25, from Bristol, said she had "tears in her eyes" when she donated blood a few weeks ago.
"It was to show this is my home," she said.
"This is the country I decided to live in. I wanted to do something for the society here.
"I came here five years ago and Polish people have become part of this culture."
Jon Latham, of NHS Blood and Transplant, said while it was grateful for the pledges from the Polish community, people should always register as a donor and book an appointment to donate in advance.
He added: "It's great that members of the Polish community are using 20 August as a springboard to commit to becoming a blood donor - they can help save and improve lives by donating blood."
The NHS needs 204,000 volunteers to come forward this year, he added.