Probation changes causing significant problems, says report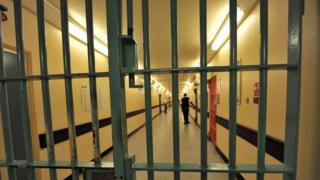 Changes to the way offenders in England and Wales are supervised are causing "significant operational" problems, the chief probation inspector has warned.
In his report, Paul Wilson said risk assessments were not being done and there was nowhere to record offenders' deportation status on new paperwork.
The National Association of Probation Officers, which represents staff, demanded a review of the new system.
The government said it was confident about the delivery of the reforms.
Government changes have seen the probation service split in two, with £450m in contracts offered to private and voluntary sector organisations to run Community Rehabilitation Companies (CRCs), supervising low and medium-risk offenders.
A new National Probation Service (NPS) has taken over the supervision of high-risk offenders.
In his report, Mr Wilson said "the nature and pace of these changes will continue to have an unprecedented impact on organisational structures and staff for some time to come".
IT problems had been "exacerbated" by the new arrangements, he added.
'Simply not working'
The report highlighted "significant operational and information sharing concerns", he added.
Areas that struggled to deliver services before the changes are now finding it "hardest to adapt and cope with the reforms", he said.
Mr Wilson said problems could be resolved, but warned the "true test" of the changes were whether they could reduce re-offending rates.
"The much bigger challenge for 2015 and beyond will be to turn the rhetoric of innovation and the long-advocated extension of services to short term prisoners into hard evidence of effectiveness and reduced rates of reoffending."
Tania Bassett, from Napo, said the report was a "clear indication that the system is simply not working".
"Staff morale is at an all time low and its deeply concerning that the inspectorate will have to rely on 'goodwill' for these issues to be resolved," she said.
Probation staff are working "longer hours with ever increasing workloads" with many also facing redundancy, she added.
"Goodwill is in short supply and we call on the government for an independent review," she said.
A Ministry of Justice spokesman said: "Major transitions in public services are always challenging, but we are confident that our reforms are being successfully delivered.
"For the first time offenders sentenced to less than 12 months are receiving support on release.
"The inspector himself makes it clear that he believes any transitional issues can be successfully ironed out, and it is too early to draw conclusions."