Kids Company closure: What went wrong?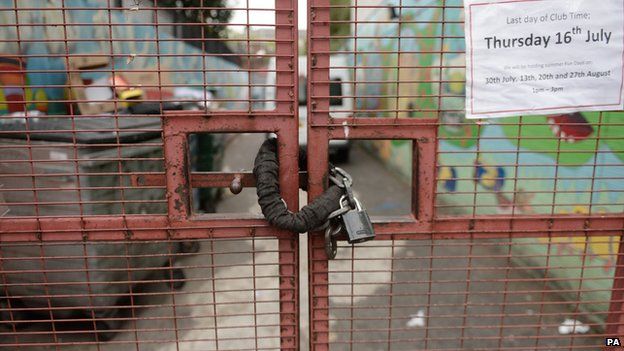 High-profile charity Kids Company closed amid a row about funding and with its performance and management under scrutiny.
What happened to Kids Company?
When Kids Company closed in August 2015, the charity said its finances had become stretched because of the number of children "pouring" through its doors for help. But donors had been steadily withdrawing support, alarmed by stories of alleged mismanagement.
Earlier that summer, the charity had said it wanted to restructure and had sought new funds from the government and donors.
But it closed, with ministers saying they wanted to recover a £3m grant they had given to the charity a week before.
Founder Camila Batmanghelidjh said a private donor, who had pledged to match the government grant, pulled out after hearing the Metropolitan Police were investigating abuse claims at the charity.
Founded in 1996 in south London, it provided practical, emotional and educational support to up to 36,000 deprived and vulnerable inner-city children and young people.
It employed more than 600 people, with high-profile supporters including Prime Minister David Cameron.
When it closed, Kids Company said 11 centres in London and Bristol and an outreach project in Liverpool had shut their doors, and its work with more than 40 schools had ended.
The day after its closure, the government held talks to draw up emergency plans to support children affected.
Who is Camila Batmanghelidjh?
Born into a wealthy family in Iran, she arrived in England aged 12, speaking little English, and went on to gain a first-class degree from Warwick University.
After training as a psychotherapist, she founded Kids Company in 1996 and was its chief executive for 19 years.
Ms Batmanghelidjh was appointed CBE and listed among the UK's most powerful women by BBC Radio 4's Woman's Hour in 2013.
Kids Company closure timeline
Why did it become a political issue?
The charity relied heavily on public money. In its last set of published accounts, for 2013, the government provided £4m, about one fifth of its annual £20m funding.
Former children's minister Tim Loughton said he had raised "serious concerns" over value for money when he was in government from 2010 to 2012.
The Cabinet Office's lead official, Richard Heaton, also wrote to ministers on 26 June last year informing them he thought the £3m grant would be poor value for money.
A senior figure involved in funding talks said any concerns raised were "all overridden by Number 10", claiming the prime minister had been "mesmerised" by Ms Batmanghelidjh.
What was the government's £3m grant for?
The grant had been intended to support a "transformation and downsizing plan" for the charity, but the BBC understands £800,000 was used to pay its monthly wage bill.
It is not clear what conditions the charity understood were attached to the grant.
The money was paid, but the Cabinet Office subsequently said it would recover it because it believed the conditions attached to its use were not met. It has not yet received any of the money back.
Why did the police become involved?
In July 2015, the Metropolitan Police opened an investigation into claims that details of incidents involving young people who used the charity had not been passed to police.
The investigation was closed in January 2016 after officers said they carried out "extensive inquiries" into claims of physical and sexual abuse but found no evidence to reach the threshold for criminal prosecution.
Kids Company always denied the claims and said it always met its obligations to report crimes.
What other investigations were held?
It said there was a "consistent pattern" of it receiving grants after claiming it would close without them. The NAO also said got more Department for Education money than any other charity in 2011.
The charity is also the subject of a statutory investigation by the Charity Commission and an inquiry by the House of Commons Public Administration and Constitutional Affairs Committee.
What has the charity said?
She told the BBC that Kids Company had been subjected to a "trial by media" based on "rumours and conjectures".