Calais crisis: Manston Airport to be Operation Stack lorry park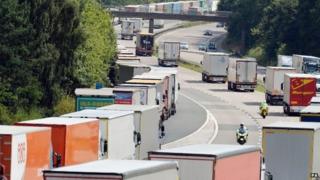 A former airport in Kent will become an emergency lorry park as cross-Channel disruption continues, the government has said.
Manston Airport will be used to hold freight traffic in the short-term.
Currently, when required, lorries bound for Dover are "stacked" on a closed section of the M20 while other traffic is diverted on to surrounding roads.
Cross-Channel rail and ferry services have been disrupted for weeks by migrant activity and French strikes.
The use of the airport as a holding area is a viable short-term solution, transport minister Lord Ahmad said.
He said it was an interim measure that would be used while work continued to find a longer-term resolution.
Earlier, an "unplanned" inspection forced the closure of the Channel Tunnel, but UK passengers and lorries still face three-hour delays, Eurotunnel said.
The latest problems to affect crossings between Kent and northern France came after 100 extra security guards were deployed to tackle the migrant crisis in Calais.
Migrants made some 600 attempts to enter the Channel Tunnel overnight.
About 180 were caught inside the Calais site, with 20 arrested, police said.
A police source also said 400 attempts to break through the perimeter fence were thwarted.
A Eurotunnel spokeswoman said that while services managed to run well overnight, it had to inspect an unidentified item in the tunnel.
It has not yet indicated what that item was, but has said both of its tunnels under the Channel have reopened.
This inspection caused disruption to passenger and freight services.
The European Commission also announced there would be a conference call on Tuesday between EU, French government and UK government officials regarding the situation in Calais.
Meanwhile, British transport bosses have said confidence in rail freight services through the Channel Tunnel could be seriously dented by the unrelenting disruption.
They say the nightly incursions by migrants and blockades by striking ferry staff in northern France have led to UK haulage firms incurring huge losses over the summer.
Chris MacRae, the Freight Transport Association's head of rail freight policy, said: "What is likely to happen as a consequence is that confidence in rail freight as a viable alternative to road will be undermined."
He also said the long-term effect of the delays to international rail freight traffic could be "devastating".
Prime Minister David Cameron is facing calls by the Road Haulage Association (RHA) to break his holiday and witness its impact "first-hand".
RHA chief executive Richard Burnett said: "Without witnessing the mayhem at Calais first-hand, neither the prime minister nor his advisers can fully grasp the severity of the situation."
Shadow justice secretary Lord Falconer will visit the French port to discuss the situation with Eurotunnel officials and the RHA.
Foreign Secretary Philip Hammond has said the UK has "got a grip" on the migrant crisis in Calais, with previously arranged fencing work at Calais "proceeding on schedule".
He also said UK Border Force and French police now had a presence in the Eurotunnel control room at Coquelles.
Under the Manston Airport holding plan, the priority is to keep traffic and goods moving and ensure people on both sides of the Channel can go across as normally as possible.
Freight carrying some goods, such as perishable food, will take priority.
Lorries carrying livestock, including shellfish, and fresh produce such as fish and meat, will not enter Stack but will be sent directly to their crossings.
Hazardous goods, cargo for critical care such as emergency medicines, and items critical for the humanitarian and welfare of the nation will also be prioritised.
The government said an agreement had been reached with the airfield owners to allow Kent County Council, Highways England and Kent Police to use the site to reduce pressure on the M20.
The impact on local roads and the Port of Dover will be kept under review.
Local campaigners who have fought to keep the airfield as an operational airport have already objected to the move amid claims the site is completely unsuitable, will divert lorries miles out of their way and block the roads into the Thanet area of Kent.
'Bitter disappointment'
Craig Mackinlay, South Thanet MP, said he and fellow Conservative North Thanet MP Roger Gale had made representations for weeks at all levels of government about the geographic unsuitability of Manston as a solution to Stack.
He said he was bitterly disappointed at the decision and hoped it would be short-lived.
A joint statement from UKIP leader Nigel Farage and the leader of UKIP-run Thanet District Council, Chris Wells, said their party neither wanted or needed the Ramsgate area, including Manston, to become a lorry park.
Calling for lorries to use Ramsgate port to cross the Channel, the statement said: "This is a simplistic and short-term approach to the ongoing crisis in Calais and Dover."
A former government adviser, Nick Pearce, has said Britain should offer to take in some refugees in Calais in a bid to resolve the crisis. He has called for United Nations officials to be brought in to register migrants massed at the French port.
On Monday, it was also announced that landlords in England would be expected to evict tenants who have lost the right to remain in the UK, under new measures to clamp down on illegal immigration.
There have been thousands of attempts by migrants heading for the UK to access the Eurotunnel terminal in recent weeks. Nine people have died trying to access the tunnel since the start of June.
---
---