HSBC sacks staff over mock Islamic State video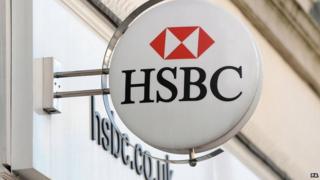 HSBC has sacked employees who made an "abhorrent" video in which they pretended to be Islamic State militants carrying out a beheading.
The video was posted online and shows a man dressed in an orange jumpsuit, while five other men in black stand around him - one holding a fake knife.
The Sun said the employees were members of the bank's legal division in Birmingham on a team building exercise.
The bank said it did not tolerate "inappropriate behaviour".
"As soon as the Sun brought this video to our attention we took the decision to sack the individuals involved," the bank said.
"This is an abhorrent video and HSBC would like to apologise for any offence caused."
The bank did not specify how many people had been sacked.
'Shocking behaviour'
The newspaper has posted an eight-second clip of the video on its website in which one man shouts "Allahu Akbar" - Arabic for "God is great" - while others laugh.
It said the employees created the video while on a visit to Teamworks Karting in Birmingham.
Teamworks Karting has released a statement which described their actions as "shocking behaviour".
It said: "The abhorrent video was filmed without our knowledge, during a private party booked by one of our corporate clients and we would not wish this to reflect negatively on Teamworks.
"We have lodged a complaint with HSBC and understand that the individuals involved have since been sacked."