Judges consider 'unfair' divorce settlement claims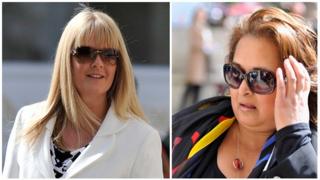 Judgement has been reserved in the case of two women who are challenging the size of their divorce settlements.
Alison Sharland, 48, and Varsha Gohil, 50, argued their ex-husbands misled judges about how much they were worth and want their claims re-analysed.
If the court rules in their favour, it could pave the way for many more people to seek re-negotiated settlements.
A panel of Supreme Court judges reserved their ruling after a three-day hearing.
"Mrs Sharland and Mrs Gohil have welcomed the opportunity to have their cases heard by the Supreme Court," said Ros Bever, a lawyer at law firm Irwin Mitchell, which represented both women.
"They have brought their cases not just for themselves but as a matter of principle and justice. We now await the judgment, which will be handed down at a later date."
Ms Sharland, from Wilmslow, Cheshire, accepted £10m from her husband Charles when they separated in 2010 after 17 years of marriage. She believed it to be about half of his fortune.
However, it later transpired the internet entrepreneur had lied about the value of his company, Appsense, and plans for its future flotation.
The financial press valued the company at more than £600m. In subsequent court proceedings Mr Sharland dismissed the valuations as "pure conjecture".
Lawyers for Mr Sharland said the provision made for his wife was "fair and reasonable".
The Court of Appeal ruled that the misleading evidence would not have led to a significantly different outcome.
Varsha Gohil, from north London, accepted £270,000 and a car as a settlement when she divorced her husband Bhadresh in 2002.
In 2010, Mr Gohil was convicted of money laundering and jailed for 10 years. At his criminal trial, evidence revealed he had failed to disclose his true wealth during divorce proceedings.
However, the Court of Appeal ruled that information that emerged at his criminal trial could not be used to overturn the couple's settlement.