Prison suicides: Warning over segregating at-risk inmates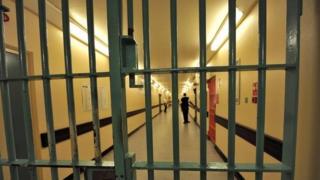 The suicides of eight prisoners have prompted a warning to prison governors about the risk of keeping "at-risk" inmates in segregation.
Nigel Newcomen, Prisons and Probation Ombudsman for England and Wales, said four of the eight who committed suicide in segregation in 2013-14 were known to be "at risk of suicide or self-harm".
He called the figures "worrying".
A Prison Service spokesman said the use of segregation was "carefully managed" and was for the safety of inmates.
Releasing a bulletin on the issue, Mr Newcomen said the figure of eight suicides by prisoners in segregation was the highest since 2004-05.
In one case, an inmate with a history of depression hanged himself after being denied access overnight to a TV, radio or book.
Another prisoner killed himself after being held in segregation for more than three months.
'Damaging effect'
Mr Newcomen said: "Segregation is an extreme and isolating form of custody used for prisoners who have misbehaved or who cannot be kept safely in normal prison accommodation.
"It inherently reduces protective factors against suicide and self-harm, such as activity and interaction with others, and should only be used in exceptional circumstances for those known to be at risk of taking their own life."
He said the prison service's own instructions recognised the "potentially damaging effect of segregation on those who may be at risk of suicide and self-harm".
"I have previously raised concerns about the number of deaths of prisoners who were known by staff to be vulnerable and at risk of harming themselves, yet were still held in segregation conditions," he added.
The "lessons" of Mr Newcomen's bulletin included that segregated prisoners should always be returned to standard accommodation as soon as possible, they should always have means to occupy themselves - "at minimum reading material and a radio" - and long periods of segregation should be "regularly reviewed".
'Key priority'
Frances Crook, chief executive of the Howard League for Penal Reform, said her organisation was "concerned by the informal use of solitary confinement, which is rife across the system and is a punishment particularly inflicted on children".
She said the Howard League had secured an investigation into solitary confinement of children in Feltham Prison - and they hoped this would "set a precedent to put a stop to the practice" nationwide.
The prison service spokesman said reducing the number of suicides was a "key priority".
"All deaths in custody are fully investigated by the independent prisons and probation ombudsman and we have accepted the vast majority of their recommendations," he said.
"Prisoners are segregated for their own safety and the safety of others and the use of segregation is carefully managed."