First of rare glimpses of royal children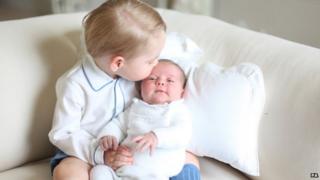 The photographs provide a rare glimpse of, as things stand, the future of the British monarchy.
Such glimpses will remain reasonably rare as these royal children grow up.
They'll next be captured together when Princess Charlotte is christened in July.
In all of these four images the baby princess - just a few weeks old at the time the photos were taken by her mother - is in the arms of her brother, Prince George.
As the toddler destined to be king continues to adjust to having a new addition to his family, his parents will hope the 22-month-old and the one-month-old will forge a bond as strong as the one enjoyed by Princes William and Harry.
Harry has spoken of how they understand each other and give each other support.
His older brother told someone recently that George was very lively and Charlotte had given her parents a "few sleepless nights".