'Dancing Man' Sean O'Brien parties in Los Angeles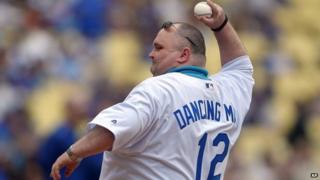 A British man who attracted global support after "fat-shaming" images of him were posted online has attended a party in his honour in Los Angeles.
Liverpudlian Sean O'Brien, who now lives in London, was trolled in March after being spotted dancing at a gig.
He was dubbed "The Dancing Man" by a social media campaign to uncover his identity and offer support.
During his LA trip he has been feted by stars, appeared on TV shows and thrown the first pitch at an LA Dodgers game.
Campaigner Monica Lewinsky, musicians Andrew WK and Moby attended his party, while Pharrell Williams recorded a special video message of support that was played at the party.
Mr O'Brien's story has become popular in the US after the social media campaign brought his story to the public's attention.
Pictures of him dancing and then looking upset after he was mocked were posted online, first on message board 4chan and then to the website Reddit.
They were posted with the caption: "Spotted this specimen trying to dance the other week. He stopped when he saw us laughing."
This led to a mass outpouring of support from Twitter users, who managed to track him down.
A group of American supporters, including American writer Cassandra Fairbanks, arranged for him to fly to California for this weekend's events.
His party, which was attended by about 1,000 people, raised money for anti-bullying charities.
Mr O'Brien has also appeared on US television dancing with pop star Meghan Trainor on the Today show.
He told its viewers his experiences after becoming famous had been "completely surreal".
He added: "It's something I never thought would ever happen in my life. It's amazing. What happened to me appeared to touch a lot of nerves.
"We've raised some good money for charity, we've got more money coming in. We're just really trying to help people know that there's support there.
"There'll always be bad in the world but there's far more good people."
He also said that he liked to dance often, "but badly - very, very badly".
Moby acted as the DJ at the party , held at the Avalon nightclub, where Mr O'Brien also met Ms Lewinsky, an anti-bullying campaigner famous for her affair with the former US President Bill Clinton.
On Sunday, Mr O'Brien threw the symbolic first pitch at a baseball game between the Los Angeles Dodgers and the San Diego Padres, wearing a Dodgers shirt with "Dancing Man" printed on the back.