Police Federation to 'stand up against bullying'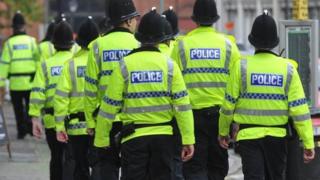 The Police Federation in England and Wales will always stand up to "bullying", its chairman has said.
Steve White told the federation's annual conference in Bournemouth that the organisation had reformed on its own terms, and not as a result of "bullying from a government minister".
And he urged the government to "change its attitude" towards the federation.
Last year Home Secretary Theresa May told the federation to reform, saying she would enforce change if it did not.
She used her speech at the organisation's conference to criticise it for accruing accusations of bullying, and having a lack of transparency in its accounts.
But on Tuesday Mr White said: "Let's face it, after hearing from the home secretary last year, one could have been forgiven for thinking that the federation was facing extinction but we are not - and we never will be."
The federation, which represents about 126,000 rank and file officers, set up a review its organisation under former Home Office permanent secretary Sir David Normington last year.
His report - known as the Normington review - found a "worrying loss of confidence and competence" within the group.
---
What the Normington Review found:
The report said the federation had faced a "perfect storm" of challenges for its members, including job losses, pay being "held down", increased pension costs and changes to working conditions, as well as major policing reforms
However, there was an "almost universal perception" among members that it had been a "weak voice" during the changes, tending to "oppose rather than engage"
The report also found the federation had reserve funds of £64.5m - about £35m held by local branch boards, which it said operated "almost as separate businesses"
Analysis: Police slow to adopt May's demands
---
'Dire potential outcomes'
In his speech, Mr White said: "We were the ones who commissioned our review, we were the ones who stood up to reform, and not because of some bullying from a government minister."
Mr White also referred to the officer at the centre of the Downing Street "Plebgate" incident, and said: "As we have seen, the Police Federation will always stand up for its members and itself when bullied by anyone - just ask PC Toby Rowland."
PC Rowland accepted £80,000 damages in settlement of his libel action against former chief whip Andrew Mitchell earlier this year, after a judge ruled the MP probably had called PC Rowland - an officer on duty at Downing Street's gates - a "pleb".
Mr White also repeated his warnings about the possible impact of further rounds of austerity, and said his members were "at breaking point".
He said: "Our message is clear and simple - enough is enough. Cuts have consequences. This is the message we are sending to the government, but we are also making the public aware.
"As a result of the cuts, we face the challenges of modern 21st century policing in a structure from the 20th century with funding which sometimes seems it's from the 19th century.
"Quite simply, we can do more. This week we will be discussing what the consequences have been to the service, but more importantly we will be looking ahead to the dire potential outcomes if things do not change.
"If the government is not careful, it will be too late."
Mrs May will address the conference on Wednesday.