Child abuse inquiry: Police hear from more sources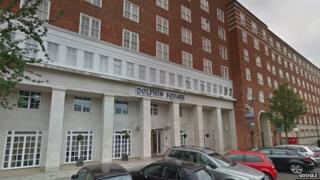 More people have come forward as part of an inquiry into alleged sexual abuse by politicians and powerful figures, the Metropolitan Police has said.
The inquiry, Operation Midland, is an investigation into allegations of historical abuse and possible murder of three boys in the 1970s and 1980s.
The inquiry was launched after a man made several allegations.
Met Police Commissioner Sir Bernard Hogan-Howe said other people had been in contact regarding the claims.
He said: "I think there've been more people who've helped us," adding they were not necessarily "victims".
The man known as "Nick" said he was abused by a paedophile ring including "very powerful people" from the age of seven to 16.
'Laborious process'
He told police he was taken by car to "parties" where he was abused by a man on his own, as well as a group of men, at a flat in the Dolphin Square estate, in the London district of Pimlico.
At the time detectives described "Nick's" account as "credible".
Mr Hogan-Howe told a briefing that investigating historical offences was a "long and laborious process" but police on Operation Midland were carrying out "extensive inquiries" and were "determined to get to the bottom of it".
The paedophile ring is alleged to have included senior military, law enforcement and political figures.