Syrian asylum seekers successfully appeal UK convictions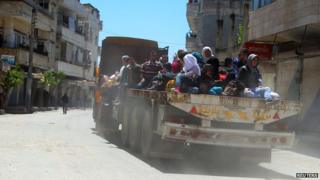 Two Syrian asylum seekers who were jailed for arriving in the UK without passports, have successfully appealed against their convictions.
The men landed at Heathrow Airport on separate dates in 2013, looking for safety from the conflict.
They were charged over failing to provide passports and served three and four-month jail sentences.
Their convictions were quashed on Thursday, after it emerged they had been wrongly advised to plead guilty.
A case of a third Syrian refugee, who arrived in the UK under similar circumstances, will now go to a full appeal hearing.
The Criminal Cases Review Commission (CCRC) referred the convictions to the Crown Court for appeal, on the basis that the men had been wrongly told by legal aid lawyers to admit to the charges against them.
This advice was incorrect, it said, because the law provides a defence of "reasonable excuse" for people fleeing persecution who do not have passports.
Analysis: Clive Coleman, Legal correspondent, BBC News
Today's cases raise a serious question for the justice system. Why are so many refugees who seek asylum in Britain, in the face of persecution abroad, being prosecuted here for criminal offences?
Several things appear to have gone wrong. Lawyers seem to have either misunderstood a law which gives such refugees a defence of "reasonable excuse" if they arrive without the correct passport, or given wilfully incorrect advice to plead guilty. Neither should have happened.
Secondly, the Crown Prosecution Service together with the courts appear to have failed to weed out cases of genuine refugees.
The CPS must always consider whether a prosecution is in the public interest - and prosecuting a genuine refugee who has good reason for not being able to produce the correct travel documents, is never in the public interest.
The courts can also question a prosecution and ask the CPS to consider whether there is a proper case to prosecute. Lawyers, the CPS and the courts seem to have failed significant numbers of some of the most vulnerable people trying to seek refuge in Britain.
One of the refugees told the BBC he had come to the UK to avoid "joining sides" in the war in Syria.
A lawyer for both of the men said they were entitled to seek refugee status and were prosecuted "quite wrongly".
"It was never in the public interest for them to be charged," he added.
Both of the men have now been granted asylum in Britain.
Thirty people from other countries have had similar convictions quashed, one verdict was upheld and one appeal abandoned.
The CCRC said it was working to stop further cases from arising.