Airlines face court threat over customer services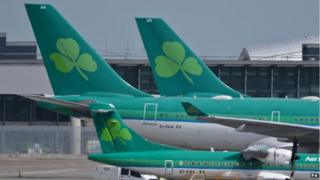 Three airlines are facing legal action over complaints about how they handle passengers hit by flight disruptions.
The Civil Aviation Authority said Ireland's Aer Lingus, Britain's Jet2 and Hungary's Wizz Air had failed to change their consumer policies in line with its requests.
Andrew Haines, chief executive of the CAA, said passengers have "every right to be disappointed" by the trio.
Jet2 told the BBC that the CAA's ruling was "materially inaccurate".
A spokeswoman said the company was paying compensation for disruption in line with previous court rulings and that airlines were "entitled" to limit to two years the period in which claims were made.
She added: "No enforcement action has been taken. Given the misapprehensions of the CAA, Jet2.com expects that following the mandatory consultation process the CAA will not wish to take the matter any further."
The CAA says a Court of Appeal ruling means that passengers should have up to six years to take a claim to court.
Aer Lingus said the Irish airline was engaging with the CAA to address its concerns, while Wizz Air said it was currently reassessing compensation cases.
The move by the CAA follows a six-month review of passenger disruption policies.
It examined how airlines handle compensation for flight delays and offer information to passengers about their customer rights.
The CAA said it had launched enforcement action against the three airlines and will seek a court order unless they comply.
The allegations against the airlines are:
Aer Lingus and Jet2 have failed to give satisfactory evidence that they proactively provide passengers with information about their rights in line with the requirements set out in European regulation.
Jet2 and Wizz Air have failed to satisfy the regulator that they are consistently paying compensation for disruption caused by technical faults, despite a Court of Appeal ruling clarifying that airlines must do so.
Jet2 and Wizz Air are imposing two-year time limits for passengers to take compensation claims to the court, despite a Court of Appeal ruling that passengers should have up to six years to take a claim to court.
Mr Haines said: "Airlines are well aware of the support they must provide when there is disruption and passengers have every right to be disappointed that a small number of airlines are not complying with the Court of Appeal rulings and continue to let people down in this way.
"Since the law was clarified last year, we have been active to ensure airlines are applying consumer law appropriately and I warmly welcome the response of those airlines that have changed their policies as a result of this work."
---
Passenger rights following disruptions under EU law
The airline must provide a reasonable amount of food and drink, a means to communicate, and accommodation if passengers are delayed overnight
The airline must provide transport to accommodation or back home
If airlines are unable to provide care and assistance, passengers have the right to organise it themselves and claim the cost back
Passengers can claim compensation if the delay was caused by the fault of the airline, for example poor aircraft maintenance or unavailable crew
If the disruption was caused by extraordinary circumstances such as extreme weather or strikes then passengers are not entitled to compensation
Compensation ranges from 250 to 600 euros depending on the distance of the journey and the length of the delay, which must be more than three hours
The flight must leave from an airport in the EU or Iceland, Lichtenstein, Norway and Switzerland, OR arrive in those countries and be operated by an EU airline
---
Aer Lingus spokesman Declan Kearney said: "Aer Lingus' procedures, relating to the provision of information to customers affected by operational disruption, are fully compliant with all the relevant regulations. We have provided a number of documents to the CAA in recent months to substantiate this point and we continue to engage with the CAA to address their concerns."
A Wizz Air spokesman told the BBC: "The UK CAA is well aware that Wizz Air is re-assessing these cases and has confirmed to the UK CAA itself, some time ago, that it will apply the UK CAA's own list of extraordinary circumstances in the relevant cases."
He said that limiting the time within which claims can be raised to two years had been "upheld by the English courts".